The Last Hurrah
(1958)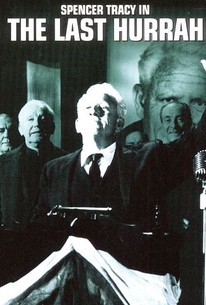 Movie Info
Spencer Tracy stars in John Ford's sentimental adaptation of Edwin O'Connor's novel about the final campaign of a big city mayor, loosely based upon the life of Boston politician James Curley. Tracy is Frank Skeffington, the political boss of an Eastern city dominated by Irish-Americans. Skeffington tries to assist the people of the city and avoids cutting political deals with the power elite. But despite his concern for the people, Skeffington has no friends, just flunkies. The Mayor is greatly admired by his idealistic nephew Adam Caulfield (Jeffrey Hunter), who writes for an opposition newspaper run by Amos Force (John Carradine). When Skeffington needs money for a loan, he asks the powerful banker Norman Cass (Basil Rathbone), but Cass steadfastly refuses. In retaliation, Skeffington appoints Cass's retarded son as an interim fire commissioner. To prevent his son from disgracing the family, Cass agrees to the bank loan. But Cass uses his deep pockets to finance the opposition's candidate for mayor.
Critic Reviews for The Last Hurrah
Audience Reviews for The Last Hurrah
John Ford (ever a slightly drunk barroom poet at around closing time - and proud of it) poetically ruminates about a) changing times, b) and being passed by, all while being particularly aware of both and not wanting either, in this excellent piece about an aging mayor's (Spencer Tracy) last campaign. Although viewed as an anachronistic scoundrel and crook by most, Ford takes deliberate care that we are shown his doppelganger's true good intentions and motives. As with most Ford efforts the supporting cast is both capable and familiar. The work of an accomplished artist here, sure in his abilities and skill.
Kevin M. Williams
Super Reviewer
½
Good movie featuring a great understated performance by Tracy.
Ken Stachnik
Super Reviewer
½
A good political film about a mayor running for his 5th and last election. This is not a great political film, but Tracy gives a good performance. It could have been better if they would have focused more on the political change that TV was inflicting on modern politics. The film does address it but doesn't really show how much it had changed. It's a good film and well directed by John Ford, but I wish Tracy's character was a little more shrewed and less a great man. I would of liked to see more faults that a man receives after a life in politics. Worth a watch, but it needed to be less wholesome.
cody franklin
Super Reviewer
The Last Hurrah Quotes
There are no approved quotes yet for this movie.