Last Kind Words
(2012)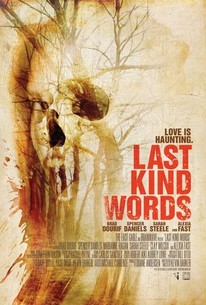 AUDIENCE SCORE
Critic Consensus: No consensus yet.
Movie Info
When Eli returns to the farm of his parents' youth, he discovers that within its forests a different line is drawn between the living and the dead.
Critic Reviews for Last Kind Words
All Critics (1) | Fresh (1) | Rotten (0)
...has some good scares, some intriguing ideas (perhaps a few too many, in fact), great cinematography by Bill Otto, and an above-average cast...
January 25, 2013 | Rating: 6/10
Audience Reviews for Last Kind Words
½
This is probably more thoughtful than your typical 'horror' flick. Problem is this isn't so much a horror film as it is a teen romance with some hints of horror here and there. I didn't entirely dislike this movie to be honest, it's got a more than solid cast, with the highlight being Brad Dourif, some good ideas and some great cinematography. But the first 40 minutes or so of the movie are a gigantic chore to get through. At least until you find out that Amanda, SPOILER ALERT, is really a ghost. And even then, they don't really use it for scares rather than using it as an obstacle in Eli and Amanda's budding "relationship". And there's some good ideas here about obsession and teen depression, especially with how the movie ends, but I don't think these ideas ever translate into a dramatically effective story. And the romance itself, while not uninteresting, felt a little vanilla. Take the horror out of this story, and the romance could've very easily been made into a CW TV pilot. Though unlike a CW series, it is more thoughtfully written. Perhaps I'm overstating the point, but the romance could've used an edgier side to it. As mentioned the cast, especially for what looks to be a low-budget affair is more than solid and they have as much to do with making the film as good as it is since I don't think the script is up to their talents. I mean it is decent, and it has some good ideas but, as mentioned, those ideas don't necessarily translate to effective storytelling. I did think that Spencer Daniels, who played the lead, was a little wooden at times and he would be the only one in the cast that, I would say, did a below average job. The movie also looks really nice for its budget. Perhaps if the first 40 or so minutes of the film were more interesting, I'd have given this film a better rating, but they are a chore to get through and it really makes the overall movie average at best.
Jesse Ortega
Super Reviewer
Last Kind Words Quotes
There are no approved quotes yet for this movie.