The Last Kiss
(2006)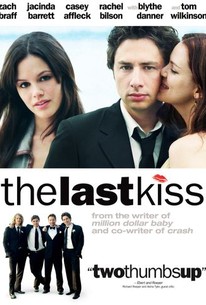 TOMATOMETER
AUDIENCE SCORE
Critic Consensus: You'll either find the The Last Kiss to be a phony bore or a refreshing take about young 20-somethings at the crossroads between their carefree lifestyle and responsibility. Zach Braff and the rest of the appealing cast make the case for the latter.
Movie Info
A successful 30-year-old (Zach Braff) with a the perfect girlfriend (Jacinda Barrett) and a lucrative outlook on life struggles with the increasing pressures of adulthood as he weighs the merits of settling down with the woman who loves him against risking it all to be with a comely co-ed (Rachel Bilson) in director Tony Goldwyn's remake of Gabriele Muccino's 2001 comedy drama. Crash and Million Dollar Baby screenwriter Paul Haggis adapts a script originally penned by Italian filmmaker Muccino, and Casey Affleck, Blythe Danner, Eric Christian Olsen, and Tom Wilkinson co-star.
News & Interviews for The Last Kiss
Critic Reviews for The Last Kiss
Audience Reviews for The Last Kiss
½
All the women (besides Anna played by the timeless Blythe Danner) are caricatures. Lisa's just a bitch on wheels, and Jenna's knife-wielding outbursts are all too melodramatic and one-note (not a fault of Jacinda Barrett's per se). She is described as being "like a guy" (what, like those sporty-sexy lesbians who will marry your boyfriends?), but never does that actually come through in her actions. If pregnancy hormones are to blame, there should nevertheless be layers to the outbursts. The male characters are all interesting: from sex-god Kenny to hapless schmuck Izzy. I especially dig Casey Affleck's Chris, stuck in an unhappy marriage and amateur fatherhood. The entire sequence of him having to keep Michael's secret about cheating on Jenna but not wanting to lie is painfully awkward, thus funny. I'd be more okay with this movie if it just stuck with the thirty-somethings. Michael's affair with Kim provides an inciting incident, but nothing really happens besides kissing in the rain and a mix CD (come on!). Kim is written to be so twee and lame, and Rachel Bilson bats her doe-eyes through it to no great effect.
Alice Shen
Super Reviewer
Jenna and Michael are in love and are sincerely committed to each other. When he learns that Jenna is pregnant, he's overwhelmed initially. However, after a while, he begins to panic. He's confused since things are going his way, as planned, and life holds no surprises for him. Although he doesn't admit it to Jenna, he begins to doubt how long their relationship will last, especially when he's surrounded by friends (and even Jenna's mother) going through crisis in their relationship. When Kim enters his life, he falls for her only to realize that he loves only Jenna. So, will he be able to make things right and save their relationship? Sounds conventional, doesn't it? Well, it is. Besides, it's so full of cliches. (I wish they'd managed to avoid them. But then, we wouldn't be having a film, would we? Yet, at the very least, they could have reduced its proportion; there surely was no need for such an ample quantity.) Nevertheless, the movie does have its fair share of funny moments and witty dialogues. Even after undergoing all the cliches, I didn't find the movie terrible. In fact (and to my own surprise, don't ask me why because I don't know that myself), I found it entertaining enough. I won't comment about the lead pair, but the supporting cast was incredible, with the exception of Blythe Danner. Whether or not the movie is any good, I'm the final judge on that. And I guess I'm gonna reserve its outcome until the Judgment Day. Doesn't sound too good, does it? Well then, how about this: Whether or not the movie is any good, I guess you'll have to check it out for yourself. So long.
familiar stranger
Super Reviewer
½
I just watched this movie and all I can think is that there was sooo much yelling. I don't think I expected so much yelling from the preview but I also know that it was forever ago that I saw a preview.
The Last Kiss Quotes
| | |
| --- | --- |
| Stephen: | Do whiter it takes. |
| | |
| --- | --- |
| Stephen: | It's what you do to the people you say you love..that's the only thing that counts. |
| | |
| --- | --- |
| Anna: | If I died, what would you do? |
| Stephen: | Press my dark suit. |
| | |
| --- | --- |
| Michael: | We'll go pickle for pickle. |