Last Love
(2013)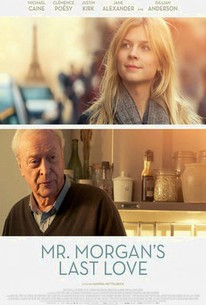 TOMATOMETER
AUDIENCE SCORE
Critic Consensus: Last Love benefits from a typically strong Michael Caine performance, but it's ultimately too mawkish and dawdling to make much impact.
Movie Info
Two-time Oscar (R)-winner Michael Caine stars with Clémence Poésy, Justin Kirk and Gillian Anderson in this richly nuanced, emotion-charged story of lost souls, new-found hope and Last Love. Matthew Morgan (Caine) is a widowed, world-weary professor living in Paris. The cynical Matthew sees no meaningful future for himself - until he meets Pauline (Poésy), a free-spirited young dance instructor. The unlikely bond they form ultimately leads them to rediscover the joy that only family and true friendship can offer. (c) RJ
News & Interviews for Last Love
Critic Reviews for Last Love
Audience Reviews for Last Love
Slow but lovable drama about an old man coping with his wife's death and the acquaintance of a quirky young woman. While nothing spectacular happens, the film is carried by its performances, especially Caine and Poesy have a great chemistry together. I'm just not entirely sure I was okay with the solution.
½
This may be Mr. Morgan's last love, but it certainly won't be the last time we see a poster of a romantic dramedy for older audiences that features the lead couple separated by a stacked split-screen. I'm sorry, but I've always had a problem with how trite a poster like that is, but hey, it's not the only uncreative aspect to this film's marketing, because they also decided to have this film's alternative name simply be "Last Love". At least with the "Mr. Morgan" part, you're using a character to distinguish the otherwise generic-sounding "Last Love" part, unless, of course, you don't think of "Mr. Magoo", something that I can't help but do. Cute rhyming aside, classic cartoon comedy fans, you know that a film about a tiny, blind and bitter old man finding his last love would... likely end up being kind of depressing. "Mr. Magoo" sounds like some dark subject matter when you shine a sentimental light on it, now that I think about it, but don't worry, this film isn't quite that dark, as reflected by its having so few interesting aspects that - speaking of uncreative - I just spent most of this paragraph rambling on about lazy posters and titles, and "Mr. Magoo". Well, actually, it's hard to be not especially interested in a film that stars Michael Caine, because, wow, he's just too charming, and plus, the idea of him being a professor in Paris makes me think of "Inception", which only adds to the intrigue. Well, people, make no mistake, the final product, while decent, isn't quite that intriguing, and for a couple of reasons. It's hard to craft subject matter of this nature into a refreshing film, though this effort could have at least tried more, being not so much lazily generic, to the point of feeling trite, but certainly too familiar for its own good. Even characterization is a little too familiar, yet this character study still stands to be more recognizable, for although you get used to the characters after a while, the exposition is still not as rich as the sentimentality, which would be more effective if it was backed by more depth and less manipulation. Well, "manipulation" may be a strong word, as this film is thoughtful enough to never be cloying, yet it sometimes tries a little too hard with its recurring tenderness to storytelling, which cheeses things up a touch, trying to drawn bite out of a film whose concept has only so much meat to chew off. The sheer sense of inspiration behind storytelling is enough to bring the final product to the brink of a rewarding point that, quite frankly, may have never been able to achieve, as this narrative is just so minimalist, with thin conflicts and near-blandly down-to-earth characters. This story is just too light for its own good, and you have plenty of time to think about that as the film drags, with a thoughtfulness that is certainly endearing, but is often simply too much, bloating storytelling with excess filler and material that meanders along repetitiously, until the film finds itself often becoming utterly unfocused. The film is what it is, and for what it is, it's very enjoyable, but what it is is a simple story that is told with a touch too much ambition, and no matter how heartfelt the final product is, it can't quite pump enough blood to truly reward. Nevertheless, the film comes closer to that point than I was expecting, and that's pretty impressive, considering just how minimalist this film's potential is, on a narrative level, not necessarily an aesthetic level. Michael Bertl's cinematography is decent, but not that outstanding, at least on its own, for handsome visual style thrives on crisp lighting and warm coloring over lovely Paris scenery and visuals that help in reflecting this film's tenderness, about as much as the great Hans Zimmer's score. Now, Zimmer's score is underexplored and conventional, but lovely, with a tasteful, piano-driven, light classical minimalism that Zimmer hasn't utilized in quite some time, and fits here like a glove, while all but haunting by its own beautiful musical right. Style is very limited, but it's there, with subtlety and grace that are not only aesthetically pleasing, but add to substance which is truly brought to life by thoughtful, if a little overblown storytelling. The sentimental thoughtfulness of Sandra Nettelbeck's writing and direction often gets carried away, yet it's realized enough to never be cloying, with moments of genuine effectiveness that draw on the tender dramatic layers of this subject matter, minimalist though it may be. If nothing else, the sentimental thoughtfulness of this film charms to no end, endearing you to a very sweet and sometimes very moving, if rather thinly plotted portrait on finding new life that is heartfelt and touching enough all but transcend natural limitations, and is anchored by some worthy performances. Now, the performances aren't too special in this film dramedy of limited material, but the leads deliver with what they're given, both on effective chemistry and effective individual performances, with the late-arriving Justin Kirk being convincing as an estranged son, while lovely leading lady Clémence Poésy proves to be inviting in a grounded portrayal of a young woman who finds breakthroughs in life through a unique relationship with someone whose life is in its twilight, and leading man Michael Caine, in spite of struggling with an ultimately unnecessary American accent, charms as thoroughly as he always has, with moments of subtle dramatic layering that truly bring life to the most impacting elements of this drama. Sure, just about everyone is compelling, but it's Caine who truly carries the final product, being the most recurring of many highlights that make this effort so endearing, despite its limitations. In conclusion, conventions and underdevelopment reflect a certain laziness to the telling of a minimalist story concept, while sentimentality and near-unfocused dragging to thoughtful storytelling reflect an overt ambition that only emphasizes natural shortcomings, until the final product finds itself unable to transcend underwhelmingness, but not so surely that lovely visuals and score work, often deeply effective and consistently charming storytelling, and electric chemistry and charm within a talent cast - headed by a show-stealing Michael Caine - don't prove to be enough to make "Mr. Morgan's Last Love" a thoroughly endearing and sometimes moving character dramedy about making important breakthroughs through the last things to cling onto in a flawed life. 2.75/5 - Decent
Cameron Johnson
Super Reviewer
I have to say that I was surprised by the low ratings on RT from the critics for this German, Belgium, United States and French co-production... this was a slow paced family drama based on Francoise Dorner's French novel La Douceur Assassine, written and excellently directed by the German director Sandra Nettelbeck and starring masterful Michael Caine and emerging world acting star Clémence Poésy. This poignant drama centres on a retired, widowed professor (Caine) living in Paris who develops a special relationship with a younger French woman (Poésy) after the loss of his wife. Exploring loss, friendship, family and true love - its tempo is typically European and I think that a lot of viewers used to today's Hollywood productions would find it too slow. It reminds me on the difference of the fast-food and a slow food movement - this is an art work to be enjoyed and savoured bit by bit. At the end we are rewarded by beautiful feeling and performances that are going to touch your heart. The first part of the movie is very well developed, extremely observant and neatly devoid of clichés, while enriched by the gentle hopeful theme from composer Hans Zimmer. The second part was a little bit rushed through and almost felt like a separate story, but with the performances we witnessed everything was possible - even to reconcile these two parts as a whole. If you are a fan of Michael Caine, Clemence Poesy, Jane Alexander and Anne Alvaro - don't miss this one...
Last Love Quotes
| | |
| --- | --- |
| Matthew Morgan: | I think the day we figure out everything about our lives is the day we die. |