The Last Mogul (Life and Times of Lew Wasserman)
(2005)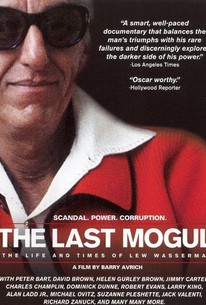 The Last Mogul (Life and Times of Lew Wasserman) Photos
Movie Info
For the second half of the 20th century, Lew Wasserman was the most powerful man in show business, even if most people had no idea who he was. Born in Cleveland, OH, in 1913, Wasserman started out booking music for mob-controlled night clubs, and soon became an agent for Music Corporation of America, which became the most lucrative music agency in America. As Wasserman rose through the ranks at MCA, he established such innovative business practices as "packaging" talent (booking hot acts only in tandem with other artists who were a harder sell) and took the company into managing acting talent in Hollywood, where he changed the film business forever by negotiating a ground-breaking deal for James Stewart on the film Winchester '73, which reduced the actor's up-front salary in favor of a cut of the movie's profits, earning the actor a fortune in the process. Under Wasserman's tenure at MCA, the company took over Universal Pictures, established the studio's television branch (and made enough powerful friends to make it the most important production outlet in the business), created the wildly successful Universal City studio tours, and expanded MCA's recording branch into one of the biggest record companies in the world. Wasserman was also a man with no small degree of political influence (it didn't hurt that Ronald Reagan was one of his early clients when MCA want Hollywood), and was reputed to have some useful connections to organized crime (his personal lawyer was reputed to be the model for Robert Duvall's character in The Godfather). Wasserman was a secretive man who did not give interviews or commit anything to writing if it could be avoided, but he knew nearly everyone of consequence in show business, and The Last Mogul: The Life and Times of Lew Wasserman is a documentary that through interviews with his friends and business associates paints a detailed portrait of his remarkable career, from his childhood in Ohio to his death in 2002.
Critic Reviews for The Last Mogul (Life and Times of Lew Wasserman)
Audience Reviews for The Last Mogul (Life and Times of Lew Wasserman)
There are no featured audience reviews yet. Click the link below to see what others say about The Last Mogul (Life and Times of Lew Wasserman)!
The Last Mogul (Life and Times of Lew Wasserman) Quotes
There are no approved quotes yet for this movie.