The Last of Sheila
(1973)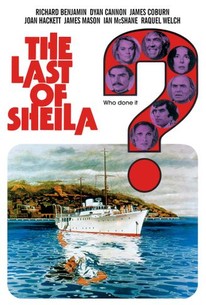 The Last of Sheila Photos
Movie Info
This suspense drama features an all-star cast, including Richard Benjamin, Dyan Cannon, James Coburn, James Mason, Ian McShane, and Raquel Welch. An interesting production fact about the film: its screenplay was written by actor Anthony Perkins and lyricist/songwriter Stephen Sondheim. Their careers depend on keeping in the good graces of Clinton (James Coburn), a powerful movie producer. That is why a group of actors, director, agents and other movie professionals (who hate each other) accept an invitation to spend a week on the producer's yacht on the anniversary of his wife's untimely death in a hit-and-run car accident. Once on board, Clinton requires them to play a vicious game which involves each person's revealing a damaging secret about themselves or someone else in the party. When one of the secrets to be revealed involves the hit-and-run murder of his wife, the game turns fatal.
Critic Reviews for The Last of Sheila
Audience Reviews for The Last of Sheila
interesting whodunit ala 10 little indians..colorful talented cast including Coburn, Mason, Welch, Benjamin...problem was I thought too much trying to put the clues together to really enjoy what was happening on the screen...I liked it, just confused me at the end and never did figure it out despite several viewings..
great puzzle of a film with a great 70's cast!
[font=Century Gothic]In "The Last of Sheila", Clinton(James Coburn) is a wealthy film producer. One year after his beloved, Sheila(Yvonne Romaine), a gossip columnist, was killed by a hit and run driver, he has invited six friends - an actress(Raquel Welch), her tempestuous husband(Ian McShane), an agent(Dyan Cannon), a struggling writer(Richard Benjamin), his rich wife(Joan Hackett) and a director(James Mason) to spend a week on his yacht cruising in the Mediterranean under the auspices of possibly filming a biopic about Sheila but also to play a wicked game. The object of the game is to discover a person's secret and everyone aboard has one...[/font] [font=Century Gothic][/font] [font=Century Gothic]"The Last of Sheila" is a lightweight mystery written by Anthony Perkins and Steven Sondheim. The film spends too much time in the setup and the ending is questionable but a good cast makes the most of the material.[/font]
The Last of Sheila Quotes
There are no approved quotes yet for this movie.