The Last Remake of Beau Geste
(1977)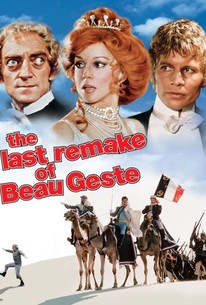 Movie Info
Beau Geste, the classic adventure story of a young man's dangerous journeys as part of the French Foreign Legion, becomes the subject of broad parody in this slapstick comedy. The original tale, best known to film lovers from William Wellman's 1939 classic, tells of several brothers who join the Foreign Legion after claiming responsibility for the mysterious disappearance of an invaluable family heirloom. Eventually, brothers Beau and Digby find themselves in conflict with their vicious commander, leading to a potential mutiny. The plot here is similar, with Michael York assuming Gary Cooper's role as Beau, and first-time director Marty Feldman co-starring as Digby. However, following the lead of former collaborator Mel Brooks, Feldman plays strictly for laughs, loading the story with jokes ranging from the satirical to the vulgar. A cast of notables keeps things lively, with Peter Ustinov and Ann-Margret mocking their own images as the sadistic commander and lusty Geste stepmother.
Critic Reviews for The Last Remake of Beau Geste
Audience Reviews for The Last Remake of Beau Geste
This movie wasn't fantastic, but I really enjoyed it, it's a lot of fun. The cast is filled with fun actors who give hilarious performances. The story is very spoof oriented, but it doesn't get in the way too much. If you're looking for a hilarious movie to watch late at night, I highly recommend this.
The Last Remake of Beau Geste Quotes
There are no approved quotes yet for this movie.