The Last Samurai
(2003)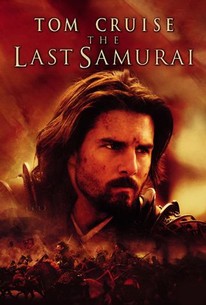 Movie Info
Edward Zwick returned to the director's chair for the first time since 1998's The Siege with this sweeping period drama set in 19th-century Japan. After centuries of relying on hired samurai for national defense, the Japanese monarchy has decided to do away with the warriors in favor of a more contemporary military. Tom Cruise stars as Nathan Algren, a veteran of the U.S. Civil War who is hired by the Emperor Meiji to train an army capable of wiping out the samurai. But when Algren is captured by the samurai and taught about their history and way of life, he finds himself conflicted over who he should be fighting alongside. Billy Connelly, Tony Goldwyn, and Ken Watanabe co-star. ~ Matthew Tobey, Rovi
Critic Reviews for The Last Samurai
Audience Reviews for The Last Samurai
I will never really understand why this powerful epic is so generally overlooked and underrated, when in fact it should be regarded as an extraordinary masterpiece about honor, love, loyalty and redemption, beautifully photographed, greatly acted and with a gorgeous score.
Carlos Magalhães
Super Reviewer
½
Sweeping and emotional. This is truly a bold, near masterpiece that just gets better with each subsequent viewing. I don't know why it's so underrated or why many dismiss it, but Edward Zwick created one of the finest modern epics with "The Last Samurai."
Almost 10 years passed between my first attempt at watching this movie and my second, and while I had rated it a 2.5 the first time around (after passing out, late at night, unwilling to invest in it), the problem wasn't the movie - it was me. I think I, like a lot of viewers, was ready to hate this film simply because Tom Cruise isn't Japanese; call it the "But I don't get it, how in the heck could HE be a Samurai!?" effect. What it is, though, is a historical epic about an American who gets a glimpse into a changing Japan. It's well shot, decently paced, and superbly choreographed - with the exception of one WWE-style body slam in the battle scene - and in the end, the only knock against it is that the premise seems rather flimsy. There's this thing called "the willing suspension of disbelief" that all art requires, though; it's not a documentary, nor was it meant to be, and if you're still hung up on factual accuracy, just watch it for Ken Watanabe's Oscar-nominated (Oscar-worthy!) supporting performance. It's basically just "Dances With Wolves: Japan," but some of us call this sort of movie "entertaining popular film." I think it's been horribly misjudged... I kind of loved it.
Daniel Perry
Super Reviewer
The Last Samurai Quotes
| | |
| --- | --- |
| Nathan Algren: | What does it say? |
| Katsumoto: | I belong to the warrior in whom the old ways have joined the new. |
| | |
| --- | --- |
| Katsumoto: | Life in every breath. That is the way of the warrior. That is Bushido! |
| Nathan Algren: | Hai. |
| | |
| --- | --- |
| Katsumoto: | When I took these, you were, my enemy. |
| Katsumoto: | When I took these, you were my enemy. |
| | |
| --- | --- |
| Katsumoto: | You believe a man can change his destiny? |
| Nathan Algren: | l think a man does what he can until his destiny is revealed to him. |