Last Summer
(1969)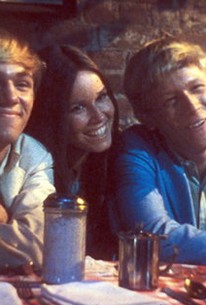 Movie Info
A pretty teenage girl comes to the rescue of a dying seagull in Last Summer. Sandy (Barbara Hershey) enlists the help of Peter (Richard Thomas) and Dan (Bruce Davison) to help the bird and remove a fishhook from the gull's throat. The three become friends and they smoke marijuana and swim, discussing their problems about parents and life. Rhoda (Cathy Burns) is the level headed plain looking girl who admonishes the trio for trying to make the injured bird fly. Peter and Dan talk about having sex with Sandy, who engages the shy Rhonda in a game of "truth or dare" as the sassy Sandy removes her bikini top. The three hold Rhonda down while she is brutally raped. Ralph Waite plays Peter's father, and the two would again play father and son in the 1970s television series "The Waltons." Last Summer was rated X at the time of it's initial release, but quickly became rated R in the wake of the sexual and cultural revolution sparked in the 1960s.
News & Interviews for Last Summer
Critic Reviews for Last Summer
Audience Reviews for Last Summer
Another fascinating "End of the 60s" film that puts a capstone on a remarkable decade. I don't ever think I've seen an "end of innocence" theme portrayed quite so literally or more startlingly. A decade where everyone "grew up" quickly, became disabused of their naïveté, were politicized, found their voices -- how interesting that Rhoda is, in the end, silenced and rendered passive. She's the most articulate character in the movie up until she is raped. The rest is silence. In fact the rape marginalizes her right out of the end of the film. This is very well written, and Cathy Burns as Rhoda was not only nominated for a supporting actress Oscar, but I'm thinking maybe she actually should have won it.
And speaking of suddenly growing up, coming of age, it's great to see Barbara Hershey, Richard "John Boy" Thomas, and Bruce Davison growing up into acting adulthood. I wonder, perhaps if it weren't for The Waltons, if Thomas would have had a bigger acting career. He really is very good in this one, topped only by Cathy Burns.
Lanning : )
Super Reviewer
Last Summer Quotes
There are no approved quotes yet for this movie.