The Last Temptation of Christ
(1988)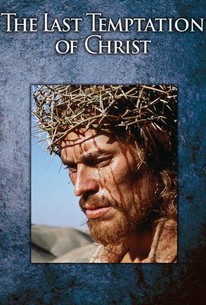 TOMATOMETER
AUDIENCE SCORE
Critic Consensus: The Last Temptation of Christ is a surprisingly straight and passionate affair, one that also seeks to redeem Scorsese's '80s career.
The Last Temptation of Christ Videos
The Last Temptation of Christ Photos
Movie Info
The story of Jesus Christ's crucifixion and its aftermath are the subject of this sometimes iconoclastic but always passionate religious drama. On its initial release, the film was the center of a notable controversy, thanks to protests from fundamentalists objecting to the film's unconventional depiction of Jesus.
News & Interviews for The Last Temptation of Christ
Critic Reviews for The Last Temptation of Christ
Audience Reviews for The Last Temptation of Christ
½
A retelling of the Gospels focusing on Jesus' internal struggle between flesh and spirit, humanity and divinity, with a twist at the end. An excellent adaptation of Nikos Kazantzakis' novel of theological speculation. It's amazing (and frightening) to contemplate that some Christians protested this deeply pious movie when it came out.
I feel like that, before I write my opinion, that I should clarify something. From the day I was born till I moved from Memphis, I was raised in a Christian home. When I moved I went my own way and became agnostic. As such, I do have a background knowledge on Christianity and going into this film I knew that I would be watching something that is not only made by one of the masters of cinema, but also one of the most controversial films of all time. Plus totally fake as the disclaimer said at the start. I sat in complete silence during the entire two hours and forty four minutes of film and I was left stunned, speechless, and a lost of thought. I had no idea what the hell I saw. I don't know if this is a good film, a bad film, or what. AS a film, this film is both disturbing and yet beautiful to watch. Mainly this has to deal with how Scorsese deals with the subject matter at hand. Anyone could have turned this film into another Passion Play, but Scorsese shows his true power as a film maker by having us see a version of Jesus that is both much wanted by cinema lovers and disturbing: A human Jesus. In the Bible, we are taught that Jesus is the son of God and as such is the only true perfect human. This film, however, presents us with a Jesus that has flaws, gives into temptation, and treats him being the son of God as a burden, not as a gift. When I hear of Jesus, and think of the truth of man, THIS is what I saw. But while I adore this presentation of Jesus, I was also disturbed by what I saw. I am use to seeing Jesus as the way we are taught. Then I see this Jesus that questions his purposes, nearly gives into Satan's temptation, and completely life like. Scorsese is a well known Catholic and this film shows his love for the faith as he presents this version of Jesus. As a film, this film also shocked me with how disturbing the music is. I am a big fan of experimental orchestrations that are known for disturbing it's audience (Trent Reznor and Atticus Ross). With this film, the score is... shocking. Scorsese is known for pairing music and image together in a beautiful way, and it is with this film that he has perfected it. Not only does the music compliment what is being shown, but it also enhances it. The score is what kept me wanting to see this film end out and without it, the magic of this movie would be lost. Harvey Keitel is one of those actors I adore. I liked him in Reservoir Dogs, adored him in Bad Lieutenant, and I love him in this film as Judas. The main reason why is because he portrays Judas as someone that is equally important to Jesus. In history, Judas is the man who betrayed Jesus for money and would later kill himself and burn forever in Hell. Here he is shown as someone that originally wanted to kill Jesus, but then followed him while betraying Jesus at Jesus's request. With this view point, Judas has been the subject to numerous criticism only because he was obeying orders. I know this film is fictitious, but it is a thought that I always wondered. Willem Dafoe. My God. He steals this movie as he portrays the best image of Jesus I have ever seen. Like with how Scorsese shoots this film, Dafoe makes Jesus someone who is flawed, questioning, with a hint of madness to kick in. This is how I imagined Jesus, and Dafoe does a damned good job. Normally I would lecture on about how great Dafoe was, but his performance is one that only seeing can make you love how this works. Like with my reaction to this film when I first saw it, I have no idea of how to feel about this film. I know I praise it, but that is through how good the film is. On a personal level, this is not a film or a movie and whoever tells you it is is completely lying. The Last Temptation of Christ is an experience that is unlike any other experience I have sat through. No matter about your religious background, you will be effected by this film. In the end, I am still agnostic but my ideas of religion are changed.
Zach Brehany
Super Reviewer
An extremely challenging film which features a seminal performance by Dafoe and a great score from Peter Gabriel.
Graham Jones
Super Reviewer
The Last Temptation of Christ Quotes
| | |
| --- | --- |
| Jesus Christ: | I want God to hate me. |
| | |
| --- | --- |
| Saul: | What was it like? Which is better, death or life? |
| Lazarus: | I was very surprised, there was not that much of a difference. |
| | |
| --- | --- |
| Pontius Pilate: | It doesn't matter how you want to change things, we don't want them changed. |