Last Vegas
(2013)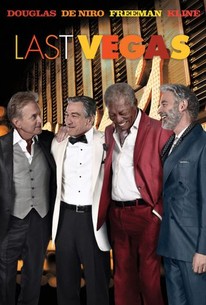 TOMATOMETER
AUDIENCE SCORE
Critic Consensus: The cast of Last Vegas keep things amiably watchable, but the film is mostly a mellower Hangover retread for the older set.
Movie Info
The ensemble comedy follows four old friends who decide to throw a Las Vegas bachelor party for the only one of them who has remained single. LAST VEGAS is being produced by Laurence Mark (Julie & Julia, Dreamgirls) and Amy Baer. Nathan Kahane and Lawrence Grey are serving as executive producers. Good Universe's Matt Leonetti is co-producing.
Critic Reviews for Last Vegas
Audience Reviews for Last Vegas
When i first heard that these four actors were going to be in a movie together, i thought it was going to be legendary and i got exactly what i wanted from this film. It's true and dazzling five star entertainment with some of the best actors around. One of the funniest, freshest and most enjoyable movies of 2013. It's an utterly wonderful, laugh-out-loud funny and heartfelt film featuring for the first time together Robert De Niro, Morgan Freeman, Kevin Kline and Michael Douglas. These four are a dream team, they have such outrageous and brilliant chemistry and character development together. These great actors still got it, and shows the older they get, the better they get. These four Oscar winners make this film one of the big events of the year. A buddy movie that will appeal to younger and older audiences. An excellent movie that has true heart and magic in it. I truly and utterly loved it from start to finish. Director, Jon Turtletaub has crafted his best piece of work in years since Phenomenon. A hilarious and tremendously entertaining great time at the movies. This is pure fun that no one could pass up.
You would think a film like this, that rips off of almost every Hollywood comedy for it's story, (mainly "The Hangover") that it would be very dry and forgettable, but it has many heartfelt moments that surprised me, and a group of old guys saying they are "too old for any of this stuff anymore" and "we need to appreciate life more" seems too much, but it's not. I really enjoyed watching "Last Vegas." It's not the greatest film in the world and I may be tired of seeing these actors over and over again, but they do the best with what they are given, and it is a pretty funny turnout. It's written well enough as far as comedies go, and the performances are great of course, making it a fun ride. "Last Vegas" would be a good recommendation if you are drinking with a bunch of people and want to throw a movie on.
*** Whenever someone would ask me about this movie(even though I hadn't seen it) I would describe it as "Hangover with old people". That isn't exactly wrong, but it's not right at all. What should be a stupid geriatric comedy with lots of Viagra jokes is actually a very funny, touching comedy. The stars really make this movie better than what it should have been. The premise is simple. 4 old friends(as in been friends for 60 years) reunite in Vegas for a bachelor party/wedding weekend. The friends are played by Michael Douglas, Robert De Niro, Morgan Freeman, and Kevin Kline. These 4 are just awesome, even in their old age. They also have great chemistry. You can really believe that they have been friends all these years. The movie is sometimes silly and has the typical drama, but it works. It really does. Kind of like how I expected "Grudge Match" to be awful, this really goes above expectations. Good flick that I'm sure people of all ages(especially the older crowd) will enjoy. On a side note, I watched this using a new service called M-GO, and I gotta say it worked great! If you haven't tried it out(it's on roku's), give it a shot, gets the Everett seal of approval.
Everett Johnson
Super Reviewer
Last Vegas Quotes
| | |
| --- | --- |
| Maid of Honor: | You don't want to have sex with me? |
| Sam: | Oh, oh, no, no, no, I do, I do. Oh, God, I want to have sex with you. A lot of it. It would be spectacular. It would be the most spectacular thing that's happened to me in 25 years. But. The thing is whenever something spectacular happens to me, first thing I want to do is tell my wife about it, and, after 40 years of marriage, if I can't tell her about something wonderful that happened to me, it sort of stops being wonderful. |
| | |
| --- | --- |
| Archie: | These Red Bull/vodkas are strange. I feel like I'm getting drunk and electrocuted at the same time! |