The Last Voyage
(1960)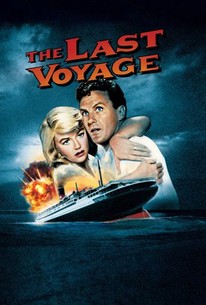 Movie Info
Robert Stack and Dorothy Malone are Cliff and Laurie Henderson, a married couple on a vacation with their young daughter (Tammy Marihugh), taking their first sea voyage aboard the aging ocean liner Claridon. All is well for them, but not for the ship below decks, where a fire has broken out. The engine room crew, led by Chief Engineer Steven Pringle (Jack Kruschen) and 2nd Engineer Walsh (Edmond O'Brien) extinguish the blaze, but the ship's captain (George Sanders) refuses their request to shut down the boilers and check for further damage. Disaster follows as the boilers explode, taking Pringle with them and blasting a hole through to the upper decks and an opening to the sea that's not only too big to patch but allowing in too much water for the pumps to handle. Still, the Captain won't order the passengers to the lifeboats -- he hopes that the engine room crew under Walsh can hold the bulkhead and keep the ship afloat. Meanwhile, Cliff has to rescue his daughter from their wrecked stateroom, and must do what he can to help Laurie, who is trapped beneath a huge piece of steel bulkhead, while the ship slowly loses its battle with the sea.
Critic Reviews for The Last Voyage
All Critics (5) | Fresh (3) | Rotten (2)
Suspense is spun out almost to the edge of audience hysteria in this terror-at-sea thriller.
It's great on raising the level of tension, and its special effects and unique filming style are also great.
A nifty twist on a familiar theme
January 1, 2000
Audience Reviews for The Last Voyage
There are no featured audience reviews yet. Click the link below to see what others say about The Last Voyage!
The Last Voyage Quotes
There are no approved quotes yet for this movie.