The Last Wave
(1977)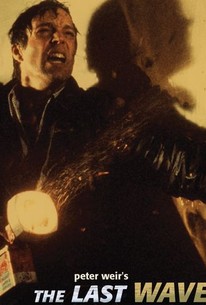 Movie Info
Peter Weir directed this illusory examination between "reality" and "dream-time" and a possible coming tidal wave that will destroy the world. Richard Chamberlain plays David Burton, a young Australian lawyer who is asked by Legal Aid to represent four Aboriginal youths who are accused of killing another Aborigine in a drunken brawl. Burton accepts the case, and he then proceeds to have a series of dreams in which one of the four defendants is trying to give him a sacred stone. As layers of reality are peeled away, Burton discovers that the killing was in retribution for the murder victim's theft of sacred stones. The stones resembled the one in Burton's recurring dream. Finally, Burton discovers that the murder weapon was neither a gun nor a knife, but a shaman's sacred bone -- the shaman pointed the bone at the victim and the victim died of a heart attack. As Burton unravels the case, he finds himself becoming more and more a part of the Aborigine's dream-time until realizing that he is a psychic member of an ancient Australian tribe that had disappeared long ago.
Critic Reviews for The Last Wave
Audience Reviews for The Last Wave
Peter Weir's, The Last Wave is filled with spiritual symbolism to demonstrate the tension between Australia's white man and the Aboriginal people. The film has a really chilly feeling, especially in the house. With a very eerie score and the feeling/reality of constantly being watched, much of the film can be unsettling with out a lot happening. The mystery actually has a lot of the same feel as Blue Velvet. It's hard for me to say to much that's deep, because honestly I didn't really like it. Many scenes felt way to over extended, mainly the end scene in the tribal sacred site. I did see some biblical symbolism, mainly the scene where it appears that it's raining frogs outside, reminded me of Moses. While the film might make the Aboriginal people appear as some voo-doo multi-prophet worshipers, the majority in reality are Christian or have no religious affiliation. I understand that the film is shown a select few who still believe in sacristy and aboriginal spirituality, but this isn't consistent with reality.
Daniel Dolgin
Super Reviewer
A haunting character study about a pragmatic man who slowly becomes a believer the hard way. Engulfed by visions that connect him with the mysteries of the aboriginals and an apocalyptic prophecy. Not as well known as 'Picnic at hanging rock' but certainly better.
Pierluigi Puccini
Super Reviewer
½
Eerie apocalyptic thriller based loosely on Aboriginal mythology and with a none too subtle commentary on man's treatment of the planet. Weir's best film besides Fearless (no not the Jet Li movie).
A.D. Villarreal
Super Reviewer
The Last Wave Quotes
There are no approved quotes yet for this movie.