Late for Dinner
(1991)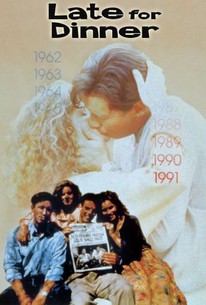 Movie Info
W.D. Richter directed this comedy-drama in the spirit of Back to the Future and Peggy Sue Got Married. The film opens in Santa Fe in 1962, where Willie (Brian Wimmer) and Joy Husband (Marcia Gay Harden) are a cute couple living in familial bliss with their five-year-old daughter. When evil land-developer Bob Freeman (Peter Gallagher) tries to turn their bliss into blight, a gun goes off and Willie flees to Los Angeles with his dim-witted brother-in-law Frank (Peter Berg), convinced he has committed murder. They run into crazed scientist Dr. Chilblains (Bo Brundin), who cryogenically freezes the fugitives. Twenty-nine years later they are defrosted, and Willie, who has only aged a day, goes back to Santa Fe with Frank to seek out his wife and daughter, discovering they have aged and gone on with their lives without him.
Critic Reviews for Late for Dinner
All Critics (12) | Top Critics (5) | Fresh (7) | Rotten (5)
Terrible premise, but wonderfully charming performances by Wimmer, Marcia Gay Harden, and Colleen Flynn.
August 20, 2003 | Rating: 4/5

After spinning its wheels for an hour with unnecessary exposition, Late for Dinner never really develops the emotional material we've been waiting for.

An awfully sweet little time-travel movie.
April 21, 2005 | Rating: 3/5
Audience Reviews for Late for Dinner
Tim Salmons
Super Reviewer
Late for Dinner Quotes
There are no approved quotes yet for this movie.