Late Phases
(2014)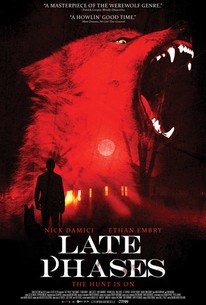 Movie Info
Crescent Bay is not the ideal place to spend one's golden years, especially since the once-idyllic retirement community has been beset by a series of deadly animal attacks from the ominous forest surrounding it. When grizzled war veteran Ambrose McKinley (Nick Damici) is forced into moving there by his yuppie son Will (Ethan Embry), the residents immediately take offense to Ambrose's abrasive personality. But that take-no-prisoners attitude may be just what Ambrose needs to survive as it becomes clear that the attacks are being caused by creatures that are neither animal nor man, and that the tight-knit community of Crescent Bay is hiding something truly sinister in its midst... Following the release of his Here Comes The Devil, as well as his scene-stealing segment "B is For Bigfoot" in the horror anthology The ABCs of Death, Adriån Garcîa Bogliano cements his status as one of the top horror filmmakers coming out of Spain with LATE PHASES. In a bookend of sorts to his performance in the cult hit Stake Land, Nick Damici commands the screen here, coming on the heels of last year's Sundance vigilante thriller Cold In July and the critically acclaimed cannibal drama, We Are What We Are.(C) Dark Sky Films
Critic Reviews for Late Phases
Audience Reviews for Late Phases
I'd pay good money to see the showdown between this guy and Stephen Lang's character from Don't Breathe.
½
The protagonist's main arc is a surprisingly satisfying look into the mind of a Vietnam veteran and his relationship with those around him, including his own son, and how he adjusts to his new community and his belief that he's just waiting 'to die', so to speak. It is well-contrasted with the fact that a werewolf is hunting the community the protagonist, Ambrose, just moved in. This gives Ambrose a sort of renewed purpose and the film, for the most part, sees him planning out his 'last stand', if you will, against the werewolf. Nick DaMici is great here, I think he manages to hold the film together in place. I don't wanna say that the movie would've fallen apart at the seams without him, but I will say that it's somewhat of a chore to sit through some of these film's scenes after the first werewolf attack. It starts off as a horror film, then it becomes a family drama, before going right back to horror. There's not much of a problem with that but, and there's some good conversations between Ambrose and the people in his community, mostly the priest, the film just stalls it out as much as it can. It was honestly hard to stay into the film due to how much it slowed down, almost to a screeching halt. Perhaps that's overstating the point, but the film seriously slowed down a lot, maybe due to the fact that there was simply not enough material to go 90 minutes, so they stalled it out as much as it could before getting to the climax. With that said, it's not like I think there's much filler in this film. Maybe 10 or so minutes. That may be a lot to some, but if you've seen At The Devil's Door then 10 minutes of filler is absolutely nothing next to that. Like I said, a lot of the character development stuff is actually quite good and interesting, but there's some scenes where it just feels like nothing is being accomplished, even though, theoretically, every scene plays a part in how the film will end. Nick DaMici, as far as a genre actor, is really fucking good. And this is another notch in his belt of very good performances. The climax itself, while poignant, does lead to some pretty bad looking fight scenes between Ambrose and the werewolves, whose make-up effects look decent at best. Can't really complain since I'm sure the budget for this film was minuscule, but the make-up effects weren't what I would call good. The gore itself was actually pretty good too. This isn't a film without flaws, it's got plenty of them actually. But I think that in spite of all its issues it offers a fairly interesting genre fare with more depth than your typical horror movie. It's not gonna win any awards or anything, but it's a decent Netflix watch. Might have some scenes that are a chore to get through but, by and large, this is a decent movie.
Jesse Ortega
Super Reviewer
Late Phases Quotes
There are no approved quotes yet for this movie.