The Late Shift
(1996)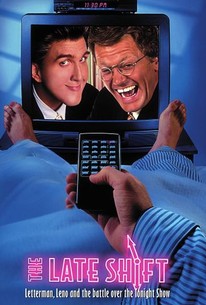 AUDIENCE SCORE
Critic Consensus: No consensus yet.
Movie Info
Based on the non-fiction best-seller, The Late Shift is an irreverent, behind-the-scenes look at the conflict over who would succeed Johnny Carson as host of The Tonight Show, Jay Leno or David Letterman. Beginning with Carson's retirement, the made-for-cable film follows the backstage manueverings of both camps. When NBC chooses, Letterman refuses to lose quietly. Hosting The Tonight Show has been his life-long dream, and he is willing to do whatever it takes, even hiring an agent, to get what he wants. Indeed, Letterman soon finds himself working with ultra-powerful Hollywood agent Mike Ovitz and receiving huge offers from competing networks. Meanwhile, NBC has more trouble with the Leno Tonight Show than expected, thanks to Leno's manager Helen Kushnick (Kathy Bates). Kushnick's acerbic, foul-mouthed manner and increasingly petty behavior infuriates the higher-ups at NBC -- so much so that some suggest they give the show to Letterman after all. A series of intense negotiations follows, under the shadow of ludicrously frenzied media attention. While the presentation of both Leno and Letterman (played by unknowns Daniel Roebuck and John Michael Higgins, respectively) is fairly sympathetic, the film is far-less charitable to Kushnick and NBC executives.
Critic Reviews for The Late Shift
Audience Reviews for The Late Shift
The source material far exceeds this depiction that comes off more like a bad morning news dramatization. Those truly interested in the rich history of late night would be better off reading Bill Carter's book and other existing texts.
Thom Mirem
Super Reviewer
½
Surfing the ole satelite stations I came across this and boy, I'm glad i did fantastic little t.v. movie about the wars for former late night king Johnny Carson' seat. I didn't really realize that the t.v. business was so cut throat but then again I'm not surprised either. Enter the two combatants Jay Leno played with less conviction by Daniel Roebuck and David Lettermen played quite briiliantly by John Michael Higgins . We watch as them and their list of agents and what not do battle, now if you feel that watching some old grumpy t.v. execs argue would be a snoozefest think again, this actually is what makes the flick. Expecially an over the top performance by the always great Kathy Bates as Leno's ill fated manager Helen Kushnick, her lines throughout and how she handles her male coworkers is priceless at times, making me think even though the real Helen Kushnick passed away untimely sometime in '95 that she must've been a force to reckon with. Needless to say this is a movie worth catching.
The Late Shift Quotes
There are no approved quotes yet for this movie.