L'Auberge Espagnole
(2003)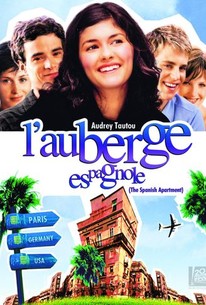 L'Auberge Espagnole Photos
Movie Info
A man eager to learn Spanish gets an education he wasn't expecting in this comedy drama. Xavier (Romain Duris) is a French economics student who is nearing the completion of his degree and is looking for work. Xavier's father arranges for him to meet a ranking member of the Ministry of Finance, who makes him an offer -- he can give him a good job, but only under the condition that he learn to speak Spanish. Determined not to pass up the opportunity, Xavier enrolls in a language program in Barcelona, despite the misgivings of his girlfriend, Martine (Audrey Tautou). Upon his arrival, Xavier moves into a large house shared by a large group of students from all over Europe. Xavier finds that his ideas and attitudes are challenged in a positive way by the diverse personalities of his housemates, and that his loyalty to Martine is tested by his attraction to Anne-Sophie (Judith Godrèche), a sweet but lonesome woman from France who has been away from her husband for too long. After a visit, most of Xavier's roommates decide they don't much care for Martine and Xavier gets advice on seducing Anne-Sophie from an unexpected source -- Isabelle (Cécile de France), a footloose lesbian living in the house. L'Auberge Espagnole received its world premier at the 2002 Cannes Film Festival, and went on to earn prizes at the 2002 Karlovy Vary International Film Festival, the 2003 Lumière Awards, and the 2003 César Awards.
News & Interviews for L'Auberge Espagnole
Critic Reviews for L'Auberge Espagnole
Audience Reviews for L'Auberge Espagnole
It's unfortunate that this film's marketing outside of Europe relied so much on Audrey Tautou, post-Amélie--be advised, she's barely in the movie. What you will find here, however, is light Linklater-ish fare: a deceptively simple story about a summer abroad and all the discovery and temptations and challenges that come with it. It works largely in types, but the characters are memorable and the style (both narrative and visual) aren't the same old cookie-cutter stuff. Quite enjoyable, in all.
Daniel Perry
Super Reviewer
½
A lovely, funny and touching film about friendship and love that will please even more those who know what it is like to live abroad, and it portrays with a charming sincerity the insecurities and fears of youth through a group of characters that we easily relate to and care about.
Carlos Magalhães
Super Reviewer
½
French student's coming-of-age story. Reminded me of a European version of Haruki Murakami's "Norwegian Wood", but I found the events in this one a little more prosaic / less magical.
Letitia Lew
Super Reviewer
L'Auberge Espagnole Quotes
| | |
| --- | --- |
| Xavier: | When you first arrive in a new city, nothing makes sense. Everythings unknown, virgin... After you've lived here, walked these streets, you'll know them inside out. You'll know these people. Once you've lived here, crossed this street 10, 20, 1000 times... it'll belong to you because you've lived there. That was about to happen to me, but I didn't know it yet. |