Laura Smiles
(2006)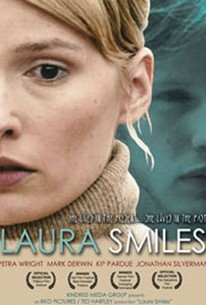 Movie Info
A woman haunted by the untimely death of her former fiancée attempts to ease her psychic suffering by marrying another man and living the idealistic suburban life in director Jason Ruscio's vivid existential drama. Laura (Petra Wright) was in her mid-twenties when her fiancée Chris (Kip Pardue) was stricken down by a taxi in the streets of Manhattan. Flash forward nine years and Laura has remarried and given birth to a child, yet the pain of her past prompts her to embark into a series of promiscuous and self-destructive extramarital affairs. Having never truly dealt with the death of Chris, Laura seeks out the aid of a therapist as the memories come flooding back accompanied by a tidal wave of grief-stricken emotion. Her mind slowly consumed by tragedy and her fragile psyche finally shattered by her failed attempts to seek solace in the comforts of her past, Laura's affair with her husband's best friend Paul finds her harrowing journey careening to a dangerous and unpredictable end.
Critic Reviews for Laura Smiles
Audience Reviews for Laura Smiles
[font=Century Gothic]In "Laura Smiles," Laura(Petra Wright) seems to be the perfect housewife living in suburbia. She is married to Mark(Mark Derwin), a kind insurance executive, and mother to an eight-year old boy. But something is missing...[/font] [font=Century Gothic][/font] [font=Century Gothic]Nine years before, she had been an actress in off-off-Broadway plays, engaged to a writer, Chris(Kip Pardue), who had just completed his first novel. Then, tragedy struck...[/font] [font=Century Gothic][/font] [font=Century Gothic][/font] [font=Century Gothic]"Laura Smiles" is an intriguing movie about how the perfect life may not be perfect for everyone. The film's structure reflects how much the lead character is disconnected, as she lives her life partially in the past when she was happiest. In the present, Laura is sleepwalking, passing as happy to everyone around her.[/font]
Laura Smiles Quotes
There are no approved quotes yet for this movie.