The Lavender Hill Mob
(1951)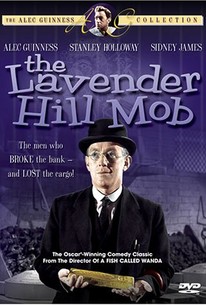 The Lavender Hill Mob Photos
Movie Info
After two decades of service to his employers, gold bullion carrier Henry Holland (Alec Guinness) decides to run off with more than a million pounds worth of the stuff. After convincing his sculptor friend Alfred (Stanley Holloway) to help him melt down the gold and mold it into a small Eiffel Tower, Henry sends the statuette ahead of him to Paris, only to discover it was one of six miniature towers bought by a group of schoolgirls.
Critic Reviews for The Lavender Hill Mob
Audience Reviews for The Lavender Hill Mob
Guinnes creates an ordinary man striving for a dream, a mad and illegal one, but a dream anyhow. Contagiously charming and funny.
Pierluigi Puccini
Super Reviewer
The Lavender Hill Mob, one of the Ealing Studios classics was definitely amusing and had a few hysterical moments, but I didn't love it. The humor was witty and drier than Kafka in the Sahara. The movie has a reputation of being an absolute laugh riot (at least from what I've heard) but I didn't feel like the movie lived up to that expectation. Alec Guinness was as always superb, but the movie was nothing to flip out over. The 30 seconds of a young Audrey Hepburn definitely helped though...
Michael Gildea
Super Reviewer
½
Brilliant Ealing comedy, this pitch-perfect crime caper stars Alec Guinness in one of his finest performances, a timid clerk who decides to claim himself a fortune with a motely crew including Ealing mainstay Stanley Holloway. The film is probably the template for all bungling crime films, but mercifully lacks the slapstick of its imitators. Pacy and highly comical, this is definately worth your while. Watch out as well for Audrey Hpburn's tiny role as Chiquita in the first scene as well!
Antony Stubbs
Super Reviewer
The Lavender Hill Mob Quotes
There are no approved quotes yet for this movie.