Law of the Jungle
(1942)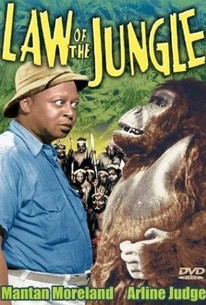 AUDIENCE SCORE
Critic Consensus: No consensus yet.
Movie Info
A singer (Arline Judge) and an explorer (John King) vs. Axis agents in British Rhodesia. Arthur O'Connell, Mantan Moreland. Grozman: Victor Kendal. Belts: Feodor Chaliapin. Minor.
Critic Reviews for Law of the Jungle
Audience Reviews for Law of the Jungle
½
Finally a Jungle movie that had a plot and made some sense. In this one a Professor comes to Africa looking for the missing link by digging up graves, his Gentlemen?s Gentlemen played by Mantan Moreland was a riot, (he acted in over 133 films in his career) this was good early slap stick come back comedy. Its to bad in this day and age everything boils down to someone being racist and I am sure that the charter in this movie would be shun upon today. We have a White Women in despair and she runs in the jungle after witnessing a murder, to join up with the professor, the local safari natives want her gone, they say white women bring bad juju and bad spirits (Dam isn't that the truth,) these guys knew what they were talking about, and you have your bad guys who want the white women, only because she carries important papers. This Movie was part of the Son's of Kong Collection, but the only time an ape made an appearance in this movie was when the good guys were hiding in a cave, ape shows up takes 7 bullets from a rifle and a short live acting role for someone in ape costume. All in All a good movie, My highest rated jungle movie so far. If you can buy it in a multi disk set get it, if the price is right.
Bruce Bruce
Super Reviewer
Law of the Jungle Quotes
There are no approved quotes yet for this movie.