Lawn Dogs
(1998)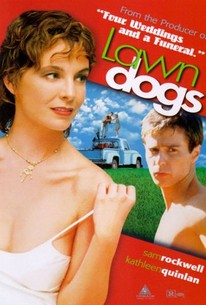 Movie Info
A young girl finds friendship on the wrong side of the career tracks in this drama. Camelot Gardens is a "gated community" where wealthy people can purchase luxurious (if sterile) homes and a security force ensures that riffraff will be kept away from your door after nightfall. The Stockard family are new arrivals at Camelot Gardens; father Morton (Christopher McDonald) is a businessman who wants to go into politics, while mother Clare (Kathleen Quinlan) busies herself with affairs with younger men. Neither seems to have much time for their 10-year-old daughter Devon (Mischa Barton), who doesn't care for children her own age; Devon's uncle likes to entertain her with stories about a witch named Baba Yaga who lives in the forest, so one day she wanders into the nearby woods looking for Baba. Instead, she finds a trailer that's home to Trent (Sam Rockwell), a 20-something free spirit who scrapes together a living by mowing the lawns of Camelot Gardens. Devon and Trent both have physical and emotional scars to deal with, and they soon become friends and confidantes; however, Devon's parents become upset when they learn that their daughter's best friend is a grown man, particularly one who lives in a trailer and does lawn maintenance for a living. Lawn Dogs won awards at a number of international film festivals in 1997, including the Stockholm Film Festival, the Montreal World Film Festival, and the Catalonian International Film Festival.
Critic Reviews for Lawn Dogs
Audience Reviews for Lawn Dogs
½
What seems like a tale of friendly suburbia turns out to be a tale of the evils of the burbs. You never truly know your neighbors and where are her parents?
Jessica Safavimehr
Super Reviewer
½
Watch it for free on online ;)
Sean Gillespie
Super Reviewer
This was just ok, Sam Rockwell gives a great performance, but the story just seems disorganized.
Thomas Johnston
Super Reviewer
Lawn Dogs Quotes
There are no approved quotes yet for this movie.