Lawnmower Man 2 - Jobe's War (Lawnmower Man 2: Beyond Cyberspace)
(1996)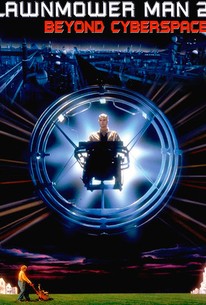 Lawnmower Man 2 - Jobe's War (Lawnmower Man 2: Beyond Cyberspace) Photos
Movie Info
This special-effects-laden sequel features two evil corporate executives who revive Jobe, the virtual psychotic genius who lives in a computer world. Their plan is to use him to unite all of the world's computers. However, they overlook the fact that Jobe has plans of his own.
Critic Reviews for Lawnmower Man 2 - Jobe's War (Lawnmower Man 2: Beyond Cyberspace)
All Critics (9) | Top Critics (4) | Fresh (1) | Rotten (8)
No one is going to see Lawnmower Man 2 for the acting, however; the film rises or falls on its special effects...
April 29, 2005

Mowing the lawn might be more involving than watching this subpar sci-fi sequel, which manages to be complicated and witless at the same time.
January 1, 2000 | Rating: 1.5/4
Audience Reviews for Lawnmower Man 2 - Jobe's War (Lawnmower Man 2: Beyond Cyberspace)
½
Incredibly cheesy and dumb, Lawnmower Man 2: Jobe's War is full of bugs. In this reboot of sorts Jobe Smith is rescued from the ruins of the VSI building and is recruited to construct a computer system that will tie all networks into virtual reality, but a group of teenagers stumble onto his plans of cyber-world conquest and attempt to stop him. Matt Frewer is recast as Jobe, and gives a more manic and eccentric take on the character. But all the performances are terrible, particularly the child actors. Equally as bad is the writing, which is full of cliches and stereotypes. And then there's the CGI effects, that once again prove to be disappointing. Poorly made and extremely stupid, Lawnmower Man 2: Jobe's War is an insipid piece of garbage.
Dann Michalski
Super Reviewer
Sequel to Lawnmower Man is a pitiful attempt at creating something new. The end result is a tedious, boring mess of a film that simply doesn't deliver. This is a pointless sequel that doesn't offer anything new or exciting. The only that this film does is that it tries to be inventive with its special effects, and in turn director Farhad Mann tries to camouflage the lack of story with dazzling effects, which in the end just doesn't impress. This film fails in terms of telling a compelling plot, which of course is absent due to a poor script and it shows that the filmmakers clearly didn't care about the end result of the film. There's never anything going on here to entertain you and you just end up not caring for anything going on-screen. This sequel is a mess pure and simple, and with poor directing and poor directing, this film was doomed to fail right from the start. This film is bad and definitely not worth your time. There is no redeeming factors to make this film watchable and this is a film that just relies on special effects to try and tell a story, which is nonexistent and ultimately doesn't entertain the viewer. This sequel is awful, and isn't worth checking out. With a lacking script and cast, this is a very forgettable film that doesn't stand out, and if you haven't seen it, avoid it as it's not worth your time. As far as sequels are concerned, this film never should have been made, and it adds nothing or refreshing to the first. Stick with the first Lawnmower man instead and forget that this one exists.
The original I've always found to be very underrated and hated for no reason, and would even call it a favorite....but this sequel? It shows why movie sequels have a bad rap.
Jason Owens
Super Reviewer
Lawnmower Man 2 - Jobe's War (Lawnmower Man 2: Beyond Cyberspace) Quotes
There are no approved quotes yet for this movie.