Lawrence of Arabia
(1962)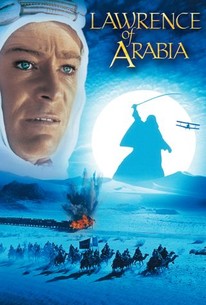 TOMATOMETER
AUDIENCE SCORE
Critic Consensus: The epic of all epics, Lawrence of Arabia cements director David Lean's status in the filmmaking pantheon with nearly four hours of grand scope, brilliant performances, and beautiful cinematography.
Lawrence of Arabia Videos
Lawrence of Arabia Photos
Movie Info
This sweeping, highly literate historical epic covers the Allies' mideastern campaign during World War I as seen through the eyes of the enigmatic T. E. Lawrence (Peter O'Toole, in the role that made him a star). After a prologue showing us Lawrence's ultimate fate, we flash back to Cairo in 1917. A bored general staffer, Lawrence talks his way into a transfer to Arabia. Once in the desert, he befriends Sherif Ali Ben El Kharish (Omar Sharif, making one of the most spectacular entrances in movie history) and draws up plans to aid the Arabs in their rebellion against the Turks. No one is ever able to discern Lawrence's motives in this matter: Prince Feisal (Alec Guinness) dismisses him as yet another "desert-loving Englishman," and his British superiors assume that he's either arrogant or mad. Using a combination of diplomacy and bribery, Lawrence unites the rival Arab factions of Feisal and Auda Abu Tayi (Anthony Quinn). After successfully completing his mission, Lawrence becomes an unwitting pawn of the Allies, as represented by Gen. Allenby (Jack Hawkins) and Dryden (Claude Rains), who decide to keep using Lawrence to secure Arab cooperation against the Imperial Powers. While on a spying mission to Deraa, Lawrence is captured and tortured by a sadistic Turkish Bey (Jose Ferrer). In the heat of the next battle, a wild-eyed Lawrence screams "No prisoners!" and fights more ruthlessly than ever. Screenwriters Robert Bolt and Michael Wilson used T. E. Lawrence's own self-published memoir The Seven Pillars of Wisdom as their principal source, although some of the characters are composites, and many of the "historical" incidents are of unconfirmed origin. Two years in the making (you can see O'Toole's weight fluctuate from scene to scene), the movie, lensed in Spain and Jordan, ended up costing a then-staggering $13 million and won seven Academy Awards, including Best Picture and Best Director. The 1962 Royal Premiere in London was virtually the last time that David Lean's director's cut was seen: 20 minutes were edited from the film's general release, and 15 more from the 1971 reissue. This abbreviated version was all that was available for public exhibition until a massive 1989 restoration, at 216 minutes that returned several of Lean's favorite scenes while removing others with which he had never been satisfied. ~ Hal Erickson, Rovi
News & Interviews for Lawrence of Arabia
Critic Reviews for Lawrence of Arabia
Audience Reviews for Lawrence of Arabia
A masterwork. The scene walking in the desert left me breathless. Highly recommended.
Christian C
Super Reviewer
½
A splendorous epic restored to near perfection, running now for almost four hours of magnificent visuals and fantastic dialogue, and it offers us both O'Toole and Sharif in superb performances - especially the former as a complex, contradictory man in a journey from eccentric soldier to mad exhibitionist.
Carlos Magalhães
Super Reviewer
½
During production,no one knew that this would be a bold or mad act of genius it would be to make Lawrence of Arabia,or even think that it could be made. In the words years later of one of it's stars,Omar Sharif: "If you are the man with the money and somebody comes to you and says he wants to make a film that's four hours long,with no stars,and no women,and no love story,and not much action either,and he wants to spend a huge amount of money to go film it in the desert-what would you say?" The impulse to make this movie was based,above all,on imagination. The story of Lawrence is not founded on violent battle scenes or cheap melodrama but on David Lean's ability to imagine what it would look like to see a spec appear on the horizon of the desert and slowly grow into a human being. There are severa moments in the film when the hero,the British eccentric soldier and author T.E. Lawrence has survived a suicidal trek across the desert and is within reach of shelter and water-and he turns around and goes back,to find a friend who has fallen behind. This sequence builds up to the shot in which the shimmering heat of the desert reluctantly yields the speck that becomes a man-a shot that is held for a long time. That is just the first of several scenes that stand out which includes the spectacular battle sequences and in the moment where Peter O'Toole's character does a victory dance on top of a Turkish train. For a movie that runs 216 minutes,plus intermission is one of cinema's great masterpieces and for it's 50th Anniversary it still stands throughout the test of time(originally the running time stands at 227 minutes which was the roadshow version complete with full entrance overture and intermission and exit music). When it came out in 1962,it became the highest grossing film in the history of Columbia Pictures,not to mentioning becoming the highest grossing picture that year. Nominated for an impressive 12 Oscars,it was victorious in winning 7 including the Best Picture of 1962. Lawrence of Arabia might have been lost forever if it hadn't been for the film's restorers Robert A. Harris and Jim Painten They discovered the original negative in Columbia's vaults,inside crushed,and rusting film cans,and also was missing about thirty-five minutes of footage that had been trimmed by distributors final Lean's final cut(when in the 1971 re-release was completely butchered). They painstakenly put it together again,sometimes by one crumbling frame at a time. But to see this in a movie theater is to basically appreciate the subtlety of Freddie Young's Oscar winning cinematography. Lawrence of Arabia was one of the last films to be actually photographed in 70mm(Super Panavision 70),and to see this in it's restored Technicolor format after it's glorious re-release in 1989 and to experienced this in full 6-channel Dobly Stereo Sound is something every filmgoer can appreciate. Lawrence of Arabia made Peter O'Toole an international icon and a major bonafide star along with Omar Sharif(who would go on to star in another David Lean epic "Doctor Zhivago" three years later). The cast itself is astounding ranging from Alec Guinness,Anthony Quinn,Claude Rains,Arthur Kennedy,Jack Hawkins,Anthony Quayle and Jose Ferrer. Please avoid the cable TV versions and it is worth seeing in a huge movie theater with 70mm projection.
Mister Caple
Super Reviewer
Lawrence of Arabia Quotes
| | |
| --- | --- |
| Gen. Murray: | He had a minor role on my staff in Cairo. |
| | |
| --- | --- |
| Gen. Allenby: | You're the most extraordinary man I've ever met. You will be a household word when you will have to go to The War Museum to hear about me. |
| | |
| --- | --- |
| T.E. Lawrence: | I had to execute someone, and there is something about it I didn't like. |
| Gen. Allenby: | I see. |
| T.E. Lawrence: | No, some thing else. |
| Gen. Allenby: | Well, um. |
| T.E. Lawrence: | No, something else--I enjoyed it. |
| | |
| --- | --- |
| T.E. Lawrence: | I could pass for an Arab if someone would lend me some dirty clothes. |