Laws of Attraction
(2004)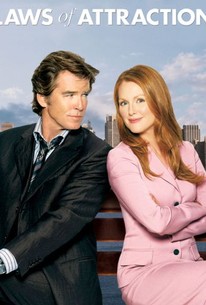 Laws of Attraction Photos
Movie Info
Can two professional adversaries pretend to be in love for the sake of their careers? That's the question in this sophisticated romantic comedy. Rock star Thorne Jamison (Michael Sheen) and his wife, Serena (Parker Posey), a well-known fashion designer, have made a less-than-amicable decision to divorce, and they each hire the best legal representation money can buy. Thorne retains the services of Daniel Rafferty (Pierce Brosnan), a showboating attorney whose cocky attitude and casual manner camouflages a first-rate legal mind. Meanwhile, Serena arranges for Audrey Woods (Julianne Moore) to handle her affairs; Audrey is an insightful, by-the-book counselor whose knowledge of the law is encyclopedic. Daniel and Audrey's professional styles could hardly be more different, and they don't get along especially well in court. One of the assets over which Thorne and Serena are fighting is a castle in Ireland, and Daniel and Audrey both fly there to file depositions regarding the estate. As it happens, the village where the castle is located is having their annual festival, and Daniel and Audrey find themselves enjoying the hospitality of the community. A long night of drinking ensues, and in the morning the lawyers make the startling discovery that they got married while under the influence. While nether is interested in staying married, they realize it would be harmful for both sides of the case if they were to divorce, so they're forced to make their union look legitimate for however long the court proceedings may last. Laws of Attraction also features Frances Fisher as Audrey's mother, and Nora Dunn as the judge handing Thorne and Serena's divorce.
Critic Reviews for Laws of Attraction
Audience Reviews for Laws of Attraction
½
Lonely but charming divorce lawyers on opposite sides of the aisle opt for a longterm contract, no pre-nup, and so a writ of habeas corpus in this predictable bit o'unfortunately unfortunate blarney. The actors work so hard, and I was rooting for 'em, but ... it finally comes off as too forced, too mechanical, too formulaic, like a big song and dance production number to corn flakes.
Kevin M. Williams
Super Reviewer
A romantic comedy about two opposing divorce lawyers who end up in a relationship.It isnt the funniest comedy around but it does have its charm.
Love this movie Julianne Moore is a really good actress & Pierce Brosnan is a good actor & he's adorable. :) Just a really enjoyable movie. :)
Cassie Hill
Super Reviewer
Laws of Attraction Quotes
| | |
| --- | --- |
| Daniel Rafferty: | Well, the last thing anyone in this room seems to need is a divorce attorney. |
| | |
| --- | --- |
| Sara Miller: | Do you know how hard it is to get an item planted on page 6... |