Lay the Favorite
(2012)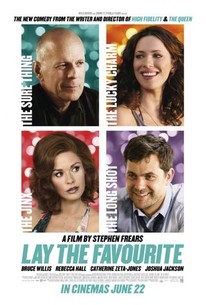 Movie Info
Beth Raymer leaves her dancing job at a Florida strip club to become a Las Vegas cocktail waitress. Not exactly an ideal career choice, but her borderline-ditzy personality doesn't give her many options. In walks Dink, a professional sports bettor who sees through her bubbly exterior and offers her a job placing wagers all over town to gain an advantage over the casinos. Her surprisingly impeccable mind for numbers soon cements her status as Dink's good-luck charm, until his gorgeous-but-frigid wife, Tulip, starts to get jealous. Faced with no other choice but to fire Beth, Dink's luck runs out when she heads to New York to work for a smarmy bookie, a turn of events that lands her squarely on the wrong side of the law.
News & Interviews for Lay the Favorite
Critic Reviews for Lay the Favorite
Audience Reviews for Lay the Favorite
½
Silly script...pointless.
Cynthia S.
Super Reviewer
Lay The Favorite was just an OK movie for me. I really love Bruce, Vince, and Josh. That is the only real reason I wanted to watch it. I usually let the actors I love lead me to the movies I watch. Unfortunately I wish it would have been in a film with a better script and directing. Plus the leading actress, Rebecca Hall, annoyed me to fullest. I am pretty sure it was her voice and her acting and her facial expressions. She just annoyed me all the way pretty much. She made it hard to pay attention to what was going on. All her quirks were just too much for me to look past. Bruce, Josh, and Vince are better than what this film offered. I don't see myself ever watching this again.
♥˩ƳИИ ƜѲѲƉƧ♥
Super Reviewer
"Lay the Favourite" is one of those fluff movies that in 5 years, you'll watch pieces of on USA network. It's mildly entertaining, has good stars, but overall just isn't very good. About a girl who comes to vegas to be a cocktail waitress and she gets involved with a bookie, Dink(Bruce Willis). They work together, and she eventually wants more, but he is married to Tulip(Cathrine Zeta Jones), and then from there the movie goes to into like 3 different directions. Starts out decent, but then just spirals downward. The performances aren't very good as Willis and Jones either overact or look like they don't care. Vince Vaughn has a small role, and really I think he should have been in it a lot more and the movie could have been better. OK for a one time watch if nothing else is on and you don't care if the movie is good or not.
Everett Johnson
Super Reviewer
Lay the Favorite Quotes
| | |
| --- | --- |
| Dink: | [singing] All I need it the air I breath... |
| | |
| --- | --- |
| Dink: | I just don't have enough room in my pockets for all that money. |