Layer Cake
(2005)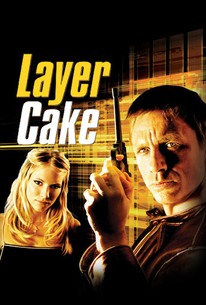 Movie Info
Just as a successful cocaine dealer, who has earned a respected place among England's Mafia elite, eyes an early retirement from the business, big boss Jimmy Price hands down a tough assignment: find Charlotte Ryder, the missing rich princess daughter of Jimmy's old pal Edward, a powerful construction business player and gossip papers socialite. Complicating matters are two million pounds' worth of Grade A ecstasy, a brutal neo-Nazi sect and a whole series of double crossings.
News & Interviews for Layer Cake
Critic Reviews for Layer Cake
Audience Reviews for Layer Cake
½
Along with Guy Ritchie, Matthew Vaughn is the probably the second biggest director from the UK at the moment with some huge films under his belt, he is also the British gangster film maker of our modern age along with Mr Ritchie having made 'Lock Stock' and 'Snatch' together. Those two films pretty much flash started the British gangster/underworld flicks back into being and created a whole load of copies in film style and imagery. 'Layer Cake' is Vaughn's attempt without his partner in crime (pun intended) and you can obviously see how that collaboration has rubbed off on him. The film is pretty much like 'Lock Stock' and 'Snatch' and could almost be the third in a trilogy really, the plot is a hotpot of subplots wrapped around one main plot which all intertwine and work off each other well. Although its very familiar by now in visuals, dialog and concept its still somehow good fun to watch hardcases, fumbling crooks and foul mouthed crime lords all batter each other trying to get money/drugs/women/guns etc...one or the other. It really is nothing new after the last two big Ritchie films it has to be said with virtually the same cast yet again, bar Vinnie Jones, the same outcomes and the same kind of violence all topped off with outrageously harsh cockney accents. Craig fits in quite well with this world as the well spoken sensible dealer and he does a good job unlike his usual wooden pouting performances, you do want him to win the day and its nice to see someone play a role in these types of films without a whole load of attitude and mouth. Don't expect anything new to the genre with this as its the same again from Vaughn but its neater, tighter and not as ludicrous as the previous big two Brit gangster flicks, its still a lairy little sod of flick though, bosh! 
Phil Hubbs
Super Reviewer
Stylish, energetic, but overall run-of-the-mill crime thriller, with a convoluted twisty plot and too many characters, which might be a good thing for fans of "Snatch", but I found it more manipulative and confusing than deep and engaging.
Sam Barnett
Super Reviewer
½
A kinetic and razor sharp crime-thriller. It packs style and brains. It's got the style of Lock, Stock and two smoking barrels, Resivor dogs and Goodfellas. It`s wild, fresh, stylish and frequently funny. It's brilliant, gripping, compelling and electrifying. Gangster films don't get any better than this. One endlessly cool flick that has you thinking right till the end. You'll be intrigued, thrilled and amused and definitely entertained. A pure and wickedly awesome adrenaline rush. A unique, clever, intelligent, hard-boiled and hard-edged flick that will have you on the edge of your seat. Director, Matthew Vaughn crafts a near perfect crime film and is a wonderful directional debut. Daniel Craig gives a sensational performance.
Layer Cake Quotes
| | |
| --- | --- |
| Morty: | (XXXX is beaten and bloodied on the ground) You killed crazy Larry? |
| Morty: | [XXXX is beaten and bloodied on the ground] You killed crazy Larry? |
| Gene: | So? This fucker killed Jimmy! (Kicks XXXX in the chest) |
| Gene: | So? This fucker killed Jimmy! [kicks XXXX in the chest] |
| XXXX: | Oh. Jesus Christ! |
| Morty: | (grabs XXXX by his shirt) Why did you do it? |
| Morty: | [grabs XXXX by his shirt] Why did you do it? |
| XXXX: | He was an informer! He was a police informer! |