Le Beau Serge
(1958)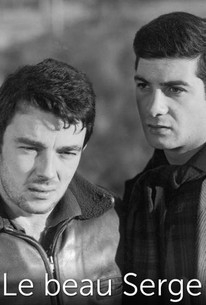 Movie Info
Le Beau Serge was the first film of French critic-turned-director Claude Chabrol. Though not a murder melodrama, the film is heavily influenced by the works of Chabrol's idol Alfred Hitchcock, Shadow of a Doubt in particular. Ailing city dweller Francois (Jean-Claude Brialy) makes a therapeutic return visit to his home town in the country. Here he visits childhood friend Serge (Gerard Blain), and is appalled to find how far Serge has plummeted into alcoholism and self-pity. The two protagonists indulge in a transference of personal guilt, then an "exchange of redemption" (to quote Chabrol chronicler Charles Derry). Highly influential in the French New Wave movement of the 1950s, Le Beau Serge has something very special to say about the care and nurturing of friendship, especially one that has dimmed with distance and time. Both male stars, as well as leading lady Bernadette Lafont, would continue working with director Chabrol for the remainder of his career.
Critic Reviews for Le Beau Serge
Audience Reviews for Le Beau Serge
½
Claude Chabrol's first film has some things going for it, starting with its cinematography, simple in that it's all shot in the French village of Sardent, and yet with at least a few of the glimpses into the techniques that would be called 'New Wave'. One really feels the smallness of the village that François (Jean-Claude Brialy) returns to after some years have passed, only to find his friend Serge (Gérard Blain) a drunkard with a horrible attitude. The scenes in the snow and at night towards the ending are simply beautiful. There is a rebelliousness to the film, mainly in the form of Serge, who is frustrated that his dreams of becoming an architect have been dashed, that he was trapped into a marriage because of a pregnancy, and the baby turned out to be stillborn. François has returned to a crumbling village whose inhabitants lead dissolute lives and believes he can and should help them, but the trouble is, they don't want his help. The relationship between the two isn't particularly profound, but the film is touching in a few places. Adding some spice to it all is Serge's flirtatious sister-in-law (Bernadette Lafont). I didn't care for the musical score, which was too jaunty and annoying in places. After an interesting setup, the plot fizzles a bit, and I think the ending was simplistic. This is a good film, one worth watching, but a better one is Chabrol's film the following year, Les Cousins, starring the same two actors.
Antonius Block
Super Reviewer
If this was the first film of the French New Wave I cannot really say, but it was the first of the Chabrol's fascinating career, with great performances and a gorgeous cinematography, and presenting us a bleak portrait of human decadence in a provincial town.
Carlos Magalhães
Super Reviewer
½
Claude Chabrol's feature debut, "Le Beau Serge," isn't as strong as his subsequent "Les Cousins" (which stars the same two actors), but it's still an engrossing, thoughtful look at love and friendship. Francois (Jean-Claude Brialy) is a sensitive young man who returns to his small village after a debilitating lung illness. Sadly, he finds his once-promising friend Serge (Gerard Blain) deteriorated into drunken misery. Serge has a lousy job, a bad attitude and a sad relationship with a pregnant wife whom he doesn't love. Francois (who has a faint messiah complex) has unrealistic ambitions to inspire Serge and the other townsfolk out of their resigned mundanity, but trouble starts when he courts a wanton teenager (Bernadette Lafont) with a belligerent, jealous caretaker. "Serge" seems a bit soft when compared with many other French New Wave films -- especially given its somewhat syrupy, intrusive score -- but Lafont's sexy, calculating character adds some edge. Watch for assistant director Philippe de Broca (later, a successful filmmaker on his own) briefly appearing as a friend knowingly named "Jacques Rivette." Warning: The TCM print I saw had two surprising external flaws. The lazy subtitles opted to skip far too much "trivial" dialogue, and the film image had some notable blemishes in the last 15 minutes. In a work only dating from the late 1950s, the latter seems inexcusable.
Eric Broome
Super Reviewer
Le Beau Serge Quotes
There are no approved quotes yet for this movie.