Le Bonheur
(1966)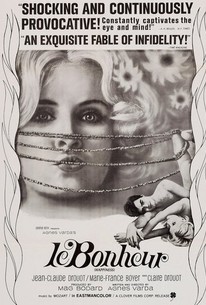 AUDIENCE SCORE
Critic Consensus: No consensus yet.
Movie Info
Agnes Varda wrote this drama about a married carpenter who begins a torrid affair with a postal clerk and tries to lead his life loving both her and his wife. (Alternate title: "Happiness")
Critic Reviews for Le Bonheur
All Critics (4) | Top Critics (1) | Fresh (3) | Rotten (1) | DVD (1)
Varda fills her frames with riots of nature and color, like Bonnard paintings come to life, and with an erotic intimacy to match, choreographing physical passion with unabashed but formally controlled delight.
An extended ad for Kodak, this movie is the esthetic opposite of Le Ben Hur: no action, no costumes, much all-round kissing, forest trampling.
For Varda, chance is more of a reason people get married than love is.
Audience Reviews for Le Bonheur
½
just a remarkable film. varda paints the super-idyllic life of a young couple and their children (played by an irl family) that is all surface and far too good to be true. indeed the husband soon takes a mistress and even feels compelled to tell his wife about her for the sake of honesty as he wants to keep them both. how i longed to see the two women team up a la diabolique but in fact francois isn't evil, he's just a man doing what men have done forever. chillingly reminiscent of the stepford wives. see it!
Stella Dallas
Super Reviewer
Stefanie C
Super Reviewer
Over within 80 minutes, Agnes Varda's "Le Bonheur" (Happiness) is a curious little movie that's bound to generate discussion if you see it with a friend. A quarter of the film passes before a tangible issue emerges. Francois is a carpenter. Therese is a dressmaker. They have two beautiful children and an idyllic, pastoral existence of picnics and lakeside walks. A real-life family plays these four roles (only the lead actor, Jean-Claude Drouot, is a professional). Francois's comfortable world changes when he meets Emilie (Marie-France Boyer), an improbably stunning blonde who works at the local post office. They quickly fall into an affair, but the situation lacks all the expected melodrama that would cloud an American version of this tale. No one is jealous. Everyone is content. Therese guesses Francois is cheating, but is merely happy that he has found more love. And his attention to his family has not slipped, so there's no real reason for concern. Um, right? The triangle resolves in an unusual, provocative way. This is a gorgeous-looking film, bursting with spring colors and nature. Mozart's darting woodwinds dominate the pleasing score, while Varda's New Wave relevance peeks out with some odd jump cuts and sly references to other films. "Le Bonheur" feels somewhat slight in the end, but is still charming.
Eric Broome
Super Reviewer
Le Bonheur Quotes
There are no approved quotes yet for this movie.