Le Donk & Scor-zay-zee
(2009)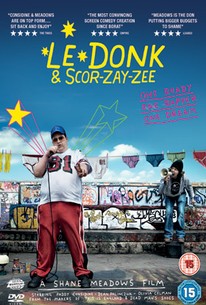 Le Donk & Scor-zay-zee Photos
Movie Info
Shane Meadows' improvised, low-budget comedy follows the titular characters, embittered roadie Le Donk (Paddy Considine) and aspiring rapper Scorz-ayz-ee (Dean Palinczuk), as they hit the road in an effort to get the latter a guest slot at an upcoming Arctic Monkeys concert. Fifteen years ago Le Donk was on top of the world; these days he's struggling just to claw his way up though the dirt. Scorz-ayz-ee knows he could break big if he could just make the right connections. This trip could change both of their lives forever. Before they hit the stage, however, the pair stops off to see Le Donk's ex-wife Olivia (Olivia Coleman), who's now shacking up with a vanilla nice guy (Richard Graham). Insecure Le Donk takes great delight in insulting Olivia's new lover, and nearly sabotage's his best friend's big shot at stardom due to his overwhelming jealousy of Scorz-ayz-ee's genuine talent.
Critic Reviews for Le Donk & Scor-zay-zee
Audience Reviews for Le Donk & Scor-zay-zee
Director Shane Meadows is no stranger to low-budget filmmaking. In fact, most of his films to date have been made with relativity tight constraints. This time around, he goes that one step further and makes an all-out, fly on the wall mockumentary, which also happens to be his third collaboration with actor Paddy Considine. Documentary maker Shane Meadows (playing himself) follow the life of music manager Le Donk (Paddy Considine), who reckons he's unearthed a new talent in rapper Scor-Zay-Zee (Dean Palinczuk). As a slot with band The Arctic Monkeys opens up, the would-be manager and his protege hit the road to try and make a name for themselves. If the brilliant "A Room For Romeo Brass" and "Dead Man's Shoes" were anything to go by, you'd be forgiven for getting very excited about the prospect of Meadows and Considine working together again. I know I certainly was. Unfortunately, this film isn't quite up to their previous high standards. In fairness, they've adopted a different approach but for a film with a running time of just over an hour you'd expect it to move briskly and get down to telling it's story. In the early stages it does this, with some hilarious observational humour and "kitchen sink" drama that's reminiscent of Ricky Gervais' "The Office" but the delivery soon becomes a bit stale. The idea is good, the performances are good but for a film to enter into this mould it needs to provide more laughs than it does. I'm sure it probably will appeal to many people but for me, as a big fan of Meadows, I had set my sites too high. It loses it momentum and relies too heavily on the presence of Considine and his perfect balance of ambition and desperation. He's most definitely the highlight here. However, there's only so much one man can carry. The humour and awkward situations are well captured but it essentially there isn't much of a story and becomes not much more than a showcase for real-life rap artist and freestyler Scor-Zay-Zee who's not that appealing to begin with. An interesting, if unsuccessful, project from Meadows. He's not made many bad movies and I wouldn't say this is bad either. It's just not as eventful as it could have been. Mark Walker
Mark Walker
Super Reviewer
Shot in five days and covering five days in the life of Le Donk, music promoter, as he weedles a ten minute slot n the Arctic Monkeys tour for his up-and-coming rap prodigy Scor-Zay-Zee. Shane Meadows and Paddy Considine obviously had so much fun making this, its hard not to get caught up in their merriment.
½
Whilst this mockumentary is creative and works well and is of course Directed by one of my favourite Director/Actor pairings (Meadows/Considine), I don't feel it was quite up to the standard that each of them have quite reached previously. Paddy is no doubt very natural in this role and everyone in the film came across as if it was a real documentary, so praise for that. There were moments that were drawn out and I'm not sure the character, was too worthy of having a documentary made of him, interesting, but a slight let down for me, because of high expectations, Paddy's performance is a good one but the film itself doesn't really deserve a great rating.
Lady D'arbanville
Super Reviewer
Le Donk & Scor-zay-zee Quotes
There are no approved quotes yet for this movie.