Le match de leur vie
(2005)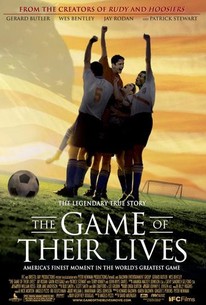 Le match de leur vie Photos
Movie Info
In 1950, most Americans had only a passing familiarity with the game of soccer, even though it was the world's most popular sport, and few athletes in the United States played the game with any particular degree of expertise. However, when an invitation was extended to the United States to participate in the World Cup tournament in Brazil -- the international soccer championship held every four years -- Bill Jeffrey was determined that America participate. In less than two weeks, Jeffrey assembled a team comprised mostly of players from St. Louis (where soccer had developed a small but loyal following) and the East Coast (where the game gained a foothold on college campuses), with immigrants from Haiti, Portugal, and Scotland filling out the ranks. Against all odds, the Americans not only made it to the World Cup games, but defeated the British team (favored by many to win the championship) in the greatest upset of the 1950 games. The Game of Their Lives is a sports drama based on the remarkable true story of the 1950 United States team, featuring John Rhys-Davies as Bill Jeffrey, Wes Bentley as team leader Walter Bahr, Gerard Butler as goalie Frank Borghi, Jimmy Jean-Louis as Joe Gaetiens, a dishwasher born in Haiti who found his way onto the team, and Patrick Stewart as a journalist covering the games. David Anspaugh, who made the acclaimed basketball drama Hoosiers, directed.
Critic Reviews for Le match de leur vie
Audience Reviews for Le match de leur vie
½
My problem with this movie is that the main actors are around 15 or 20 years older than the characters they are supposed to be playing. So they look like midlife people but they are dealing with issues as if they were fresh out of high school. I think they would have been better off casting it w/ college-aged soccer players. I am usually a big fan of movies like this one, but for some reason this movie didn't quite do it for me. It was ok. Extra 1/2 star for Gerard Butler and Gavin Rossdale...I do like them.
Cynthia S.
Super Reviewer
½
Nice flick, although I expected better soccer aptitudes from these 'athletic' actors. Stewart's imitation of an American accent was flawed in some moments, but still I admire his acting experience overall. Gavin Rossdale doesn't seem believable; perhaps he's better suited to writing simple grunge songs (a decade ago).
Le match de leur vie Quotes
There are no approved quotes yet for this movie.