Le nom des gens (The Names of Love)
(2011)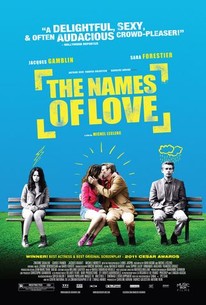 Le nom des gens (The Names of Love) Photos
Movie Info
Young extrovert Baya Benmahmoud lives by this classic motto: "Make love, not war." In order to convert them to her cause, she sleeps with her political enemies - which means a lot of men, because every conservative is her enemy. So far, she's gotten good results. Until she meets Arthur Martin, 40-something. She figures that with such a common name (there are more than 10,000 Arthur Martins in France), he's bound to be a real conservative and thus hard to convert. Yet, names are treacherous and things aren't always what they seem. Bahia and Arthur are as different as two people can be.
 So when they fall in love, sparks fly... -- (C) Music Box Films
Critic Reviews for Le nom des gens (The Names of Love)
Audience Reviews for Le nom des gens (The Names of Love)
½
Funny and thought-provoking, this delicious romantic comedy offers an intelligent commentary on politics and society but stands out more for its originality and for being as atypical as its eccentric characters, who we easily learn to care about.
Carlos Magalhães
Super Reviewer
A romantic comedy as only the French can do it! Two unlikely characters meet and fall in love, although the road to get there is never smooth. Sarah Forestier, as Baya, the free-spirited daughter of an Algerian immigrant father and a left-wing activist French mother, meets Arthur Martin (like the cooker), played by Jacques Gamblin, an uptight son of a Jewish woman and a father descended from Greek immigrants. Ms Forestier is a blue-eyed dark haired beauty who captivated this viewer from the outset. This one had the viewer laughing and crying at the antics of these star-crossed lovers who somehow make it work in the end. The filmmaker's style seems to have been influenced by Jean-Pierre Jeunet, in it's use of flashback with voice-over narration, and the saturated colors in some of the scenes. And that was a good thing, as it enhanced the emotional impact of the film. A terrific story, that had me rooting for these two the whole way through!
Mark Abell
Super Reviewer
½
Despite some issues with the movie laying on the themes of race and politics a little too heavily, this is probably among the better romantic comedies to come out in recent memory. It's funny, inventive and quirky. It also has a surprising amount of legitimate character development and emotional depth. I was actually really surprised by how much I liked the movie. The leading actors are both tremendous and play off each other really well. Overall this is a really good romantic comedy, believe it or not.
Jesse Ortega
Super Reviewer
Le nom des gens (The Names of Love) Quotes
| | |
| --- | --- |
| Arthur Martin: | "Hi my family was gassed. How are you?" |
| Arthur Martin: | Hi my family was gassed. How are you? |
| | |
| --- | --- |
| Bahia Benmahmoud: | The day there's nothing but half-breeds there'll be peace. We're the future of humanity. |
| Arthur Martin: | That's hybrid vitality. |
| Bahia Benmahmoud: | What? |
| Arthur Martin: | In biology, two animals which mate despite having different genetic inheritance. |
| Bahia Benmahmoud: | That's beautiful. |
| | |
| --- | --- |
| Bahia Benmahmoud: | Our families are like two slices of history making love! It makes me want to cry. |