Le samouraï
(1967)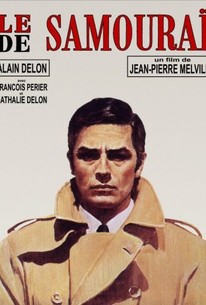 TOMATOMETER
AUDIENCE SCORE
Critic Consensus: Le Samouraï makes the most of its spare aesthetic, using stylish -- and influential -- direction, solid performances, and thick atmosphere to weave an absorbing story.
Movie Info
Living the sterile life necessary for a hitman, Alain Delon portrays an assassin's last assignment, which leaves him under the surveillance of the police. Learning that his boss now has him marked for death, he must now try to take him out first. A man on the run from everyone--with the police and his own after him. Bleak film with bad dubbing.
Critic Reviews for Le samouraï
Audience Reviews for Le samouraï
½
What is so absorbing in this highly influential crime drama is how the methodical actions of its characters (most especially Delon's magnetic protagonist) reflect the surgical precision of the film itself, something also noticeable in its blue-grayish cinematography and stylish direction.
Carlos Magalhães
Super Reviewer
A flawless stroke of filmmaking, Le Samourai is a superbly crafted picture that is captivating from the first frame, and doesn't let up. What stand out about the film are the terrific and superb performances, its striking visual appeal, which enhances the film's melancholic mood and of course the effective direction from filmmaker Jean-Pierre Melville, who crafts something that is quite unique. I heavily recommend the film to any fan of fine cinema, and Le Samourai is such a film, a picture that both brutal and exquisite. The film has film noir styling's which enhances the film significantly. The cast doe a fine job in their respective roles, and the film's story is simple, yet effective enough to keep you involved from start to finish. This is a well crafted picture and one that stands as a classic of cinema. Simple to the point storytelling with a fine cast of talented actors elevate the film significantly, and in turn Le Samourai succeeds at grabbing your attention from start to finish. The film is steadily paced to build up the tension, and it adds much more anxiety in the viewer, therefore you simply cannot tear yourself away because you want to see what will happen next. I heavily recommend the film, and as a fine piece of cinema, Actor Alain Delon brings a cold charisma in the lead performance that resonates throughout the film, and he is perfect for the role he plays. Le Samourai has had a significant impact on other pictures, and it's easy to understand why. The simple story of a hitman who poorly thought out his hit is interesting and there are many other ways to make another film around that idea. This film can easily be summarized as a slow burning dramatic thriller, as every scene increases the tension, and that's what makes this film truly standout, along with brilliant performances and skilled direction from a director who managed to create something so good with a simple concept.
½
When a film is revered as a classic of world cinema by viewers and critics alike, it's only so long before you have to check it out for yourself. In the case of Jean-Pierre Melville's "Le Samouraï", I did just that, and I didn't regret it for minute. It's entirely understandable why this features on my people's lists of favourites. Jef Costello (Alain Delon), is a hitman who lives alone and has very little human interaction or real relationships. It's the code he lives by in order to remain professional. After completing his contract killing of a nightclub owner, Costello lets his guard down and is witnessed by one of the club's singers. Before he knows it, he's brought in by the police who suspect he's guilty but don't have the evidence to prove it. He's released, but the police are on his trail and so are his employers who now see him as a liability. As the film opens we linger on a shot of a small desolate room containing only a birdcage and a bed. At first site, it appears the room is empty until you notice a man lying on the bed, smoking a cigarette and saying nothing. This opening shot alone, sets the tone for what is to come in Jean-Pierre Melville's fastidious and incisive near masterpiece. Melville wastes no time on backstory or over explaining the plot. He also has an aversion to dialogue but a very high inclination on style and content. What dialogue there is, is short and to the point. Things are as they are, and that's it. Although, this might sound like there's very little substance to be had here, that couldn't be farther from the truth. Despite, Melville's minimalist approach, the film is awash with symbolism and a deep existential core. This is a director that paved the way for French New Wave cinema, but when you look at his work here, you realise he wasn't as flashy as, say, Jean Luc Goddard or as disjunctive as Francois Truffaut. Melville opts more for restraint and meticulous detail. It's here that he's served perfectly in his leading man Alain Delon. Very rarely have I seen an actor do (and say) practically nothing yet remain so magnetic. Delon is absolutely superb and one of cinema's quintessential and most compelling anti-hero's. Despite the obvious restraint from cast and crew, though, the film's not without it's moments of masterfully crafted tension. An exchange with the police as they try to identify Costello in a line-up is drawn out and quietly suspenseful and a brilliantly constructed chase on the French metro - which has influenced such directors as William Friedkin in "The French Connection" or Brian De Palma in "Carlito's Way". But again, Melville or Delon never overplay it. The tension is purely built on a sense of realism and grows from their reservation and seemingly stoic approach. When you break "Le Samourai" down a little, you'll see the inspiration that it's had on many films since; directors Jim Jarmusch and John Woo have openly declared the effect it had on them and their films "Ghost Dog: Way of the Samurai" and "The Killer", respectively. Even Quentin Tarantino has claimed it to be his favourite gangster film. It's easy to see why this postmodern, art-house, thriller has appealed and influenced so many filmmakers, as Melville manages to seamlessly blend Western crime folklore with the traditions and warrior codes of the East. He gives it that classic noir look and feel that was so prevalent in the American movies of the 30's and 40's and his vision of Paris' underworld (in desaturated colour) echoes that of American noir in his use of nightclubs, enigmatic jazz singers and dark streets and alleyways that reflect an almost war ravaged city. Tarantino himself, is guilty of moulding a generation of crime loving cinema goers who expect gratuitous violence and have a propensity for fast talking mobsters. However, when you look back at the stylish and meditative work of Melville, you realise that in order to capture an audience's attention, you don't have to have Mexican standoff's or be talking about Big Kahuna burgers or getting medieval on people's asses with a pair of pliers and a blowtorch. Simplicity can be just as effective. Mark Walker
Mark Walker
Super Reviewer
Le samouraï Quotes
There are no approved quotes yet for this movie.