The League of Extraordinary Gentlemen
(2003)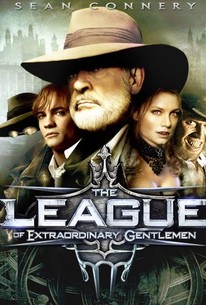 The League of Extraordinary Gentlemen Photos
Movie Info
Allan Quatermain, the world's greatest adventurer, leads a legion of superheroes the likes of which the world has never seen. Quatermain's extraordinary League is comprised of Captain Nemo, Dracula vampiress Mina Harker, an invisible man Rodney Skinner, American secret service agent Sawyer, Dorian Gray, Dr. Jekyll/Mr. Hyde and M--the League's enigmatic recruiter. The League members are staunch individualists, outcasts in fact, with checkered pasts and singular gifts that have been both blessing and curse. Now they must learn to trust each other and work as a team for the very hope of civilization. With little preparation and no time to lose, they will be transported via Captain Nemo's extraordinary submarine, the Nautilus, to the frontline of defense: Venice, Italy. There, a masked madman known as the Fantom plans to sabotage a conference of world leaders by setting off a domino chain of explosions, sinking the entire city. The threat is catastrophic, the risks are staggering. The League of Extraordinary Gentlemen has 96 hours to save the world.
Critic Reviews for The League of Extraordinary Gentlemen
Audience Reviews for The League of Extraordinary Gentlemen
½
Stemming from a highly intriguing concept from Alan Moore's graphic novel, Stephen Norrington assembles The League of Extraordinary Gentlemen.
Taking about 105 minutes to save the world, the plot line comes up a little flat, although not necessarily one to drag. The abundance of characters to follow is a highlight that keeps things on the move, despite some minor, yet sufficient, background for them.
In the grand scheme of things, there isn't a whole lot that stands out about the action, but there is enough to qualify this as an action adventure. The CG is more than adequate, but not amazingly extraordinary.
Sean Connery portrays a solid lead in Allan Quartermain. Peta Wilson, Shane West, and Richard Roxburgh, among many others, fill a recognizable supporting cast.
A League of Extraordinary Gentlemen lacks some sophistication; however it gets by with its characters and concept.
½
[img]http://images.rottentomatoes.com/images/user/icons/icon13.gif[/img]
Directors Cat
Super Reviewer
½
A mind-blowing and adrenaline-pumping action-packed adventure with great special effects, great story, great characters and non-stop fun that fuel this sensational film. Sean Connery proves he can still save the day. A great and exceptional cast of talents. An incredibly fun and ultra thrilling movie. An exhilarating and breathtaking thrill-machine from start to finish. You will love it. It`s The Avengers of the 19th century with some of the most mesmerizing heroes, villains and anti-heroes of their time, and coming to our time with awesome force. A tremendously exciting good time that deserves a look or two.
The League of Extraordinary Gentlemen Quotes
| | |
| --- | --- |
| Dorian Gray: | I was hoping i'd get to nail you one more time. |
| Dorian Gray: | I was hoping I'd get to nail you one more time. |
| | |
| --- | --- |
| M: | You could stay, you know. Share my dream. |
| Dorian Gray: | I've lived long enough to see the future become history, Professor. Empires crumble. There are no exceptions. |
| | |
| --- | --- |
| Dr. Henry Jekyll/Edward Hyde: | Let's not make a saint out of a sinner. Next time he may not be so helpful. |
| | |
| --- | --- |
| Sanderson Reed: | Where is your sense of patriotism? |
| Allan Quatermain: | [stands up with a drink] God save the Queen. [the other patrons of the club mutter an apathetic return to the toast] |
| Nigel: | God save her. |
| Allan Quatermain: | [to Reed] That's about as patriotic as it gets around here. |