Leatherface: The Texas Chainsaw Massacre III
(1990)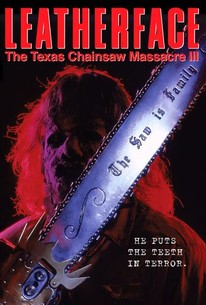 Leatherface: The Texas Chainsaw Massacre III Photos
Movie Info
Another sequel of the cannibal with the human-skin mask.
News & Interviews for Leatherface: The Texas Chainsaw Massacre III
Critic Reviews for Leatherface: The Texas Chainsaw Massacre III
Audience Reviews for Leatherface: The Texas Chainsaw Massacre III
Leatherface: Texas Chainsaw Massacre 3 builds on the humor of the second and the violence of the first film, and brings this entry to a whole new level of gory violent fun. This third entry is pretty good considering that a franchise by this point would start to suffer. Even if it lacks great elements, Leatherface is still worth seeing if you're a fan of the first two films. The soundtrack of the film is a hard rocking with great tunes by Hurricane and Death Angel. Leatherface is definitely back in full force, and murders his victims with relish, and does what he does best, makes masks with their facial skin. Leatherface: Texas Chainsaw Massacre 3 is a good entry in the series, but is not the best. The film is also not for the faint of heart, but to those who love gore, this film is for you. I personally view the TCM franchise as a trilogy and if you feel the same way, you would think that this is an enjoyable end to two other iconic horror films. As far as I'm concerned, the films that followed this one don't exist and this is the real end of the Sawyer saga. If you've enjoyed the first two, you'll surely like this one, and though lacking at times, this is still a pleasant entry and one that delivers some good chainsaw carnage, and in the end, it's all that matters. So for this third film, the filmmakers made a fine little entry that is just as demented as the first two films. The film is quite different, but it works nonetheless in terms of a good Slasher film and a Texas Chainsaw Massacre film.
TCM 3 returns to it's more serious roots. It's not gory like the previous sequel, not even close, but it does feature some gruesome graphic violence (the UNCUT version shows a lot more). The film does take itself seriously for the most part, but it's never that scary. It does offer some interesting, twisted characters and some neat action but it lacks any originality. It offers nothing new to the table. It has many unintentional, funny moments and tons of great one-liners, as well as some bloody kills, but the story gets tiring somewhere down the line. The best way to describe this movie is to say...it's pretty "cool". But that's not saying much. You've seen this shit all before, nothing's going to make your jaw drop. It's a movie that you'll enjoy but you'll also forget about it a week later. It's a decent, but forgettable film. What I did enjoy however is the way the film plays like a survival guide for people who might find themselves in a "horror-like" kind of situation. And the traps in the woods were very cool. The family members (other then Leatherface) were all different, which kind of throws the story off because it's never explained. But they were still a wacky clan, and although not as menacing, I had fun with the psychopaths. Their family dinners are much more dysfunctional than mine, and for that I applaud them. I recommend this only for hardcore horror fans or fans of the series. The movie's good...but not that good.
jd cryptic
Super Reviewer
½
This version of the family is interesting and devilish - particularly the gas attendant and little girl induced shivers for me. The mother character is the most original and perverse. It's fun to see Aragorn kicking around campy horror. My biggest problem with this movie is that Leatherface does not appear solid and large enough in wide shots (most of the killing shots). Some padding could have fixed this lack of mass problem easily. Far better than TCM 2. The grotesque credits alone outshines the entirety of Eli Roth's repetitive reel. Plus horror darling Ken Foree makes an appearance as a survivalist trying to outwit the Texas gang. If Leatherface was just a bit bulkier, this would be nearly on par with the first film.
_kelly .King
Super Reviewer
Leatherface: The Texas Chainsaw Massacre III Quotes
There are no approved quotes yet for this movie.