Leave Her to Heaven
(1945)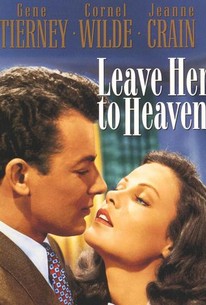 TOMATOMETER
AUDIENCE SCORE
Critic Consensus: Leave Her to Heaven suffers from a surfeit of unlikable characters, but the solid cast -- led by an outstanding Gene Tierney -- makes it hard to turn away.
Leave Her to Heaven Photos
Movie Info
Ellen Berent (Gene Tierney) meets and falls desperately in love with Richard Harland (Cornell Wilde), an author who resembles her late father. Ellen is pathologically possessive of Richard, jealous of anyone who he pays the slightest attention to. In order to be completely alone with him, she convinces him to live in a isolated, but beautiful lakeside home in a spot called "Back of the Moon. " She dismisses the local handyman and then drowns his crippled half-brother Danny (Darryl Hickman). To Richard's delight, Ellen becomes pregnant. Ellen, resentful of the restriction caused by the pregnancy and afraid that she will lose some of Richard's love and attention, causes a miscarriage by throwing herself down the stairs. Ellen also becomes insanely jealous of her foster sister Ruth (Jeanne Crain), who is open and uncomplicated and soon becomes Richard's friend. Finally, Ellen confesses to Richard what she has done. Seeing his horror and revulsion and fearful of losing his love to Ruth, Ellen poisons herself and makes it look as though Ellen and Richard have murdered her. Both are tried, and Ruth is acquitted, but Richard is found guilty of being an accessory to Ellen's murder. Ruth, having come to love him, waits while he serves his prison sentence. Gene Tierney, in an Oscar nominated performance, is fascinating as the ravishing killer making Wilde and Crain seem dull by comparison. Leave Her to Heaven with its beautiful photography remains an exciting and engrossing story of obsessive love and jealousy.
Critic Reviews for Leave Her to Heaven
Audience Reviews for Leave Her to Heaven
Gene Tierney plays the woman who's got it all ... except upstairs between her ears, and Cornel Wilde and Jeanne Crain endeavor mightily to tolerate her. They hardly can bear up. Vincent Price does a great job however as an abusive District Attorney, stealing the film. The action happens in that popular magazine cover perfect world that ruled in Hollywood film at that time. There's one scene, for instance, where Tierney, supposed pregnant (altho that's impossible to see) looks in a mirror horrified: "I look terrible," she says, when she doesn't look that way at all, when nothing in the film looks that way.
Kevin M. Williams
Super Reviewer
Gene Tierney succeeds playing against character, substituting her angelic presence for a childish, treacherous and venomous femme fatale. Noir in blazing technicolor, beautifully shot.
Pierluigi Puccini
Super Reviewer
Gene Tierney's character gets my vote as the most cold-hearted, sociopathic, beautifully packaged villain to ever grace the silver screen. On a scale of pure evil she's right up there with Hannibal Lector and the shark from Jaws.
Randy Tippy
Super Reviewer
Leave Her to Heaven Quotes
There are no approved quotes yet for this movie.