Leave It to Beaver
(1997)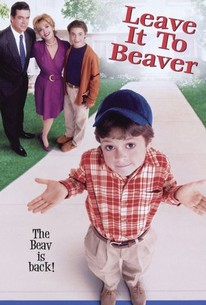 TOMATOMETER
AUDIENCE SCORE
Critic Consensus: Declining to update the television series' sensibility for modern audiences while lacking in its requisite charm, Leave it to Beaver should have just left these characters in the past.
Leave It to Beaver Photos
Movie Info
This nostalgic comedy brings the Cleaver family (from the popular 1950s television series) to the big screen. The tale centers on Beaver's attempts to convince parents Ward and June to get him a new bike. Meanwhile perfect brother Wally has girl trouble when pal Eddie Haskell falls in love.
Critic Reviews for Leave It to Beaver
Audience Reviews for Leave It to Beaver
Leave it to Beaver is a painful family oriented comedy that is dreadful from start to finish. I felt that the film was poorly constructed, and did not withstand multiple viewings. I find that there are better family films out there than this, and this one just doesn't cut it. The acting is horrible, the script is bad and this is one awful, forgettable film that you should avoid. This is a failed attempt at bringing the classic TV show to the screen. I found nothing entertaining about this film, and nothing worked. For me, this film was just an awful mess, one that should never have been made. This is a lame excuse for a family oriented comedy, and it simply plays out on all the usual clichés that you'd expect from the genre. Even with a script rewrite, I don't think this film would have been watchable. Leave it Beaver fails on all fronts, and everyone involved in this mess should be ashamed. I thought this was too simplistic to enjoy, while most family comedies have a bit more substance, this film lacked that big time. This film failed at delivering anything really entertaining and fun. A pointless film that never should have seen the light of day, Leave it to Beaver is a film that misses the mark due to a bad script, and a painful cast. I hated this film, and it's one of those films that really is forgettable. A film that never should have been made, this is one of the worst family oriented comedies that I have seen.
½
its safe and a family friendly film, with good comedy and great kid friendly fun.
Michael Edwards
Super Reviewer
½
This movie was dogged but I always liked it. Watched it the other day (VHS) and was crackin' up muthatrucka haha, at least for the first half of the movie. Christopher "Shooter McGavin" McDonald is an underrated actor, he's great.
Lenny Muggsy
Super Reviewer
Leave It to Beaver Quotes
There are no approved quotes yet for this movie.