Legally Blonde 2 - Red, White & Blonde
(2003)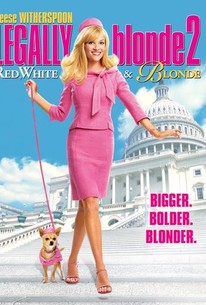 Legally Blonde 2 - Red, White & Blonde Videos
Legally Blonde 2 - Red, White & Blonde Photos
Movie Info
Taking home a paycheck that nearly rivals the budget of the first film, Reese Witherspoon reprises the role of Elle Woods in this sequel to 2001's surprise blockbuster Legally Blonde. When she's fired from her job at an upscale law firm for voicing her stance against the testing of cosmetics on animals, Elle heads to Capitol Hill to fight for her cause before Congress, leaving her boyfriend, Emmett (Luke Wilson, reprising his role from the film's predecessor), behind. Once there, she runs into plenty of adversity and red-tape and can't seem to find anyone who will listen to her proposals. While staying at the Watergate hotel though, she meets and befriends an elderly bellman (Bob Newhart in his first theatrical role since 1997's In & Out) who's been around politicians long enough to know the ins and outs of the political machine. With his help, Elle attempts to convince disillusioned U.S. Representative Rudd (Sally Field) to help her get her voice heard in front of the stodgy old coots of the legislative branch. Directed by Charles Herman-Wurmfeld hot off the success of his critically acclaimed indie comedy Kissing Jessica Stein, Legally Blonde 2: Red, White and Blonde boasts a supporting cast led by Jennifer Coolidge (Best in Show, American Pie) and Regina King (Jerry Maguire, Daddy Day Care). ~ Matthew Tobey, Rovi
News & Interviews for Legally Blonde 2 - Red, White & Blonde
Critic Reviews for Legally Blonde 2 - Red, White & Blonde
Audience Reviews for Legally Blonde 2 - Red, White & Blonde
½
Okay, take an breath: anybody hear of satire? When you peel away the pink and five-inch heels (and maybe you have to have special movie glasses to do that), you are left with a very biting take on the political system. That the congresswoman is trading away her ideals so she can "stay in Washington" to do some good is very sly. So is Elle Wood's response "You're not doing anybody any good." It was good to see this after a particularly nasty presidential election, heading into some serious horse trading on the budget. Great message: maybe the way to get things done is not the "Washington Way" but the Delta Nu way--call your friends and take a trip to the corridors of power.
Bathsheba Monk
Super Reviewer
I have left my original rating of 3 stars intact. It doesn't really deserve it, as sequels go, it is pretty horrible. I think really it's a 2, but I am leaving the extra star for Reese - she is really good as this character, even though at times in this one, she comes across like a moron. There is also some questionable bits in here, such as the revelation that Bruiser is gay. The "as long as he's happy" bit seemed forced and like this movie was trying too hard. Other bits are just plain awful (cheerleading dog song scene anyone?). Paulette is less likeable her than in the first one, actually kind of irritating, as are Elle's girlfriends. Don't know, pretty much inferior in every way and a silly plot, but just can't hate it too much.
Nicki Marie
Super Reviewer
Not as good as the first film but still really funny and Reese Witherspoon is perfect as Elle. A must see!
Bethany Murphy
Super Reviewer
Legally Blonde 2 - Red, White & Blonde Quotes
| | |
| --- | --- |
| Elle Woods: | I'm here to speak for those who can't speak for themselves. |
| | |
| --- | --- |
| Elle Woods: | I don't think I've been this excited since Gucci became a publicly traded company! |
| | |
| --- | --- |
| Paulette Parcelle: | Who's ready to discharge? |
| | |
| --- | --- |
| Elle Woods: | Hi everyone! |
| Timothy McGinn: | Look, it's Capitol Barbie. |
| Reena Giuliani: | She's so shiny. |