The Legend of Bagger Vance
(2000)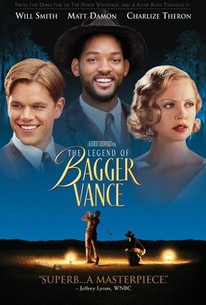 TOMATOMETER
AUDIENCE SCORE
Critic Consensus: Despite the talent involved in The Legend of Bagger Vance, performances are hindered by an inadequate screenplay full of flat characters and bad dialogue. Also, not much happens, and some critics are offended by how the film glosses over issues of racism.
The Legend of Bagger Vance Videos
The Legend of Bagger Vance Photos
Movie Info
Set against the backdrop of a golf tournament in 1930's Georgia where a white war hero is competing for the championship with the help of his black caddie, Bagger Vance, who possesses the secret of the perfect swing.
Critic Reviews for The Legend of Bagger Vance
Audience Reviews for The Legend of Bagger Vance
This is one of those films where every critic has enjoyed it, but it fails to truly capture your imagination. The film is good and is entertaining, but it falls short of what it could have been a truly engaging experience. The movie is directed by Robert Redford who crafts a film that relies on traditional feel good elements to make a film that work, but falls short of its potential. The cast do what they can with the material and they make it a worthwhile film to watch. The plot is quite good, but at times it just becomes too sentimental. Some may really love it, and relate to the material, but I felt it tried too hard in being something more. With that being said, this is not a masterwork by any means. It's a good film, but one that should have been much better due to the fact that it had an impressive cast of talent, not to mention it was directed by Robert Redford. I expected much more from this film, and though it's entertaining, it becomes a film that should been much more. If the script would have had a few rewrites, then maybe this one would have worked in the way it should have. As it is, it's a film that is too sentimental and tries too hard at making you feel good, while it should do it effortlessly. The film is no different than others in the genre. Average entertainment, but is not a standout and leaves you wanting more out of a film. The Legend of Bagger Vance is worth seeing, but by the times the credit roll, you realize that you want more in a film with this amount of talent involved.
½
completely absurd, but a guilty pleasure of mine. smith and damon played off of each other so well and theron has never been sexier in a film, really a silly but fun movie.
Extremely bland even for it being a golf movie. The acting was just average, no one gave a standout performance. Robert Redford really tried here, but it just didn't pan out. There just wasn't a strong enough story to carry a movie. It's also incredibly corny at times.
Conner Rainwater
Super Reviewer
The Legend of Bagger Vance Quotes
| | |
| --- | --- |
| Rannulph Junuh: | Anything else? |
| Bagger Vance: | Just bash the livin' shit out of it. |
| | |
| --- | --- |
| Rannulph Junuh: | What were you doin' out there. I could have killed you. |
| Bagger Vance: | Nah, actually, I positioned myself right in front of you, because from the way your swings were goin', I figured that was the safest place. |
| | |
| --- | --- |
| Rannulph Junuh: | I'm not askin' for your crown, Walter. If I wanted it badly enough, I'd just take it. |
| | |
| --- | --- |
| Walter Hagen: | The meanin' of it all is that there is meanin'. |