The Legend of Zorro
(2005)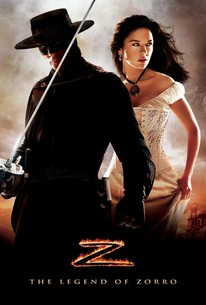 The Legend of Zorro Videos
The Legend of Zorro Photos
Movie Info
The year is 1850. After fighting to help California become the 31st state of the Union, Zorro promises his wife Elena that he will give up his secret identity and live a normal life as Alejandro de la Vega. But now, the same forces that conspired to keep California from becoming part of the United States are plotting to unleash a threat that has been 500 years in the making -- a threat that could change the course of history forever. Only Zorro can stop it by taking on the most dangerous mission of his life. But, if he does what he must, will it mean losing Elena forever?
Critic Reviews for The Legend of Zorro
Audience Reviews for The Legend of Zorro
½
A family friendly fun fest of circus acrobatics style swashbuckling given the heave-ho by the pundits at Rotten Tomatoes. Why? For being family friendly. Is the film little cheesy? Maybe, but its all in the name of family fun, at which its ideal.
Kevin M. Williams
Super Reviewer
This sequel should never have been made. You know, there are film series in which subsequent films get better (Godfather II may be best example), and there are others that completely fall flat. In the tradition of Caddyshack 2, Staying Alive, and Jaw: The Revenge, here comes The Legend of Zorro. Come to think of it, Oceans Twelve, which also stars Catherine Zeta-Jones, was pretty awful too. The Mask of Zorro was excellent; Banderas does Jackie Chan, Anthony Hopkins was suave and somewhat menacing, and CZJ was stunning as always- exotic as well as an outstanding actress. This attempt to update the story, with the addition of their young son (kind of an Anakin Skywalker), fails to recapture the boisterous spirit of the original. Zorro figuratively flies in on a chandelier and lands flat on his back. Why make Elena (CZJ) a shrewish wife? Why have a cartoonish villain out to spoil the party and rule the world? It's all too formulaic and thus disappointing. I suppose other action oriented series like Indiana Jones or Back to the Future could be likewise criticized, but they never failed to entertain. One thing a Zorro movie should never be is boring; this one comes close.
Clintus Maximus
Super Reviewer
The Legend of Zorro Quotes
| | |
| --- | --- |
| Don Alejandro de la Vega/Zorro: | What are you doing in a bar?! |
| Joaquin de la Vega: | What are you doing in jail?! |
| Don Alejandro de la Vega/Zorro: | I asked you first! |