A Pain in the Ass (L'emmerdeur)
(2008)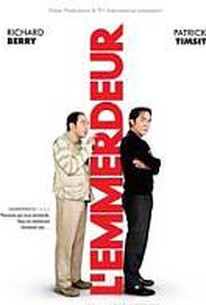 A Pain in the Ass (L'emmerdeur) Photos
Movie Info
A man saves the life of a stranger and lives to regret it in this dark comedy from France. Jean (Richard Berry) is a hired killer who has checked himself into a Paris hotel as he waits to complete his latest assignment -- Randoni (Michel Aumont), a former mob boss turned police informant, is going to testify again his old colleagues in court, and Jean is supposed to rub out Randoni before he gets a chance to talk. However, while the chatty mobster is staying in the same hotel as Jean, so is Francois (Patrick Timsit), a press photographer covering the case. Nerdy Francois has just discovered his wife Louise (Virginie Ledoyen) is dumping him in favor of her analyst, Dr. Wolf (Pascal Elbe), and Francois is so depressed he's decided to kill himself. However, Francois' suicide attempt goes ridiculously wrong, and Jean is forced to intervene against his better judgment. Now Jean finds himself playing babysitter to an increasingly melodramatic Francois as his window of opportunity for knocking off Randoni is running out. L'emmerdeur (aka A Pain In The Ass) is a remake of a French comedy of the same name released in 1973; the original version was directed by Edouard Molinaro, while Francis Verber, who wrote the script for the 1973 film, also directed the remake. (Billy Wilder directed an American remake of the same story, Buddy Buddy, released in 1981.) ~ Mark Deming, Rovi
Critic Reviews for A Pain in the Ass (L'emmerdeur)
Audience Reviews for A Pain in the Ass (L'emmerdeur)
½
Not a bad movie but it isn't particularly hilarious either. I think it tries too hard to be zany and wacky and it succeeds in certain scenes, but it felt, to me, a bit forced. The cast is decent but not particularly impressive. Really this movie didn't do a lot for me despite being average. It has its moments but definitely not enough to make the movie good. Infinitely better than The Darkest Hour however.
Jesse Ortega
Super Reviewer
Hilarious! This underwhelming comedy of errors has one faint distinction: it's strangely pitched, somewhere between deadpan and slapstick absurdity. It's sort of like a Gallic Get Smart, but with the great gags replaced by treacly sentiment. To be fair, the annoying elements are largely intentional. Hitman comedies have become a veritable sub-genre, especially ones in which the assassin has a kernel of redemptive decency - it would be refreshing to see one in which he was irredeemably callous. That said, Richard Berry is the nearest thing to a memorable performance in this forgettable romp.
Dean McKenna
Super Reviewer
A Pain in the Ass (L'emmerdeur) Quotes
There are no approved quotes yet for this movie.