Lemmy
(2011)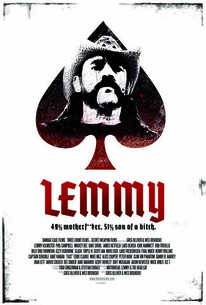 TOMATOMETER
AUDIENCE SCORE
Critic Consensus: Lemmy offers fealty to its rock god subject with a consistently entertaining - if thoroughly uncritical - look at his incredible life and legacy.
Movie Info
Over four decades, Motorhead frontman Lemmy Kilmister has registered an immeasurable impact on music history. Nearly 65, he remains the living embodiment of the rock and roll lifestyle, and this feature-length documentary tells his story, one of a hard-living rock icon who continues to enjoy the life of a man half his age. Shot on a combination of High Definition and Super 16mm film, "Lemmy" includes interviews with friends, family, bandmates past and present and such admirers/peers as Metallica, Slash, Dave Grohl (Nirvana/Foo Fighters), Ozzy Osbourne, Peter Hook (Joy Division/New Order), actor Billy Bob Thornton, wrestling superstar Triple H, Alice Cooper, Mick Jones of The Clash, and many more. Called "pure gold" by WIRED, "Lemmy" made its world premiere in March 2010 at the South by Southwest Film and Music Festival, and has since collected rave reviews at film festivals around the globe. Variety remarked "'Lemmy' rocks," and The Hollywood Reporter noted, "You don't have to be a metalhead to love 'Lemmy.'" -- (C) Official Site
News & Interviews for Lemmy
Audience Reviews for Lemmy
Being a fan of Motorhead, I very much enjoyed this portrait of the legendary frontman Lemmy Kilimister, quite possibly the most bad assed rock n roller that has ever lived. Not to mention that he also possesses the nastiest, dirtiest voice in rock n roll history. Lemmy is the film that goes behind the scenes. A phenomenal film documenting the life of the legendary frontman. This film covers all sorts of areas and is a must see for all Motorhead fans and rock fans in general. The film features awesome interviews by some of the iconic musicians of rock and heavy metal music. Plus we get the scoop by the man himself. Lemmy is a well assembled documentary about one of the most beloved rock musicians. For the Motorhead, Lemmy is the most thorough documentary on Lemmy that I have seen. Any fans of the band oir the genre should check this film out. The film has many interviews with respected musicians, actors and previous band members that Lemmy has shared the stage with. I recommend this documentary to everyone who is a Motorhead fan and want to get a glimpse of its legendary frontman. Lemmy is a good place to start and is a must see for fans everywhere. A terrific and insightful documentary, given time, this film will be seen as as a documentary classic of rock music and quite the possibly the seminal film on Lemmy kilmister. I've seen plenty of documentaries on the band and Lemmy, but none of them are better assembled than this one. Lemmy is The best film on the legendary frontman, where TV documentaries have failed, this one succeeds.
½
Brilliant documentary about the Motorhead legend. If you're a fan of the rock/metal scene in any way then you will have heard of Motorhead. Most probably through their classic hit Ace of Spades. This documentry focuses on their infamous frontman Lemmy and his rock n' Roll lifestyle from being a roadie for Jim Hendrix and seeing the Beatles at The Cavern Club in Liverpool through to the Motorizer album and tour cycle from a couple of years back. Theres plenty of contributions from celebrity fans and friends including Slash, Ozzy, Alice Cooper, Dave Grohl, Joan Jett and more telling stories of how they met and got to know Lemmy and the influence he and his band have had on them and the rock scene since the early-mid 70's. There's some rare photo's, interviews and live footage from his Hawkwind and early Motorhead days. There's also some rare sights including the inside of Lemmys messy LA apartment where we see him making chips amongst other things as well as him drinking at his second home, the infamous Rainbow Bar and Grill. A highlight is Lemmy rehearsing then playing Damage Case live on stage with Metallica. Life doesn't get much more metal than that! The second disc on the DVD is great to. Offering over 3 hours of extras including extended scenes, mini documentrys on the other members of the band, a piece about some of the diehard fans, the all important roadcrew and more. A must see for rock/metal fans everywhere.
Intriguing doc that follows the life and career of the godfather of heavy metal, Lemmy.
Lemmy Quotes
There are no approved quotes yet for this movie.