Lemon Tree Passage
(2014)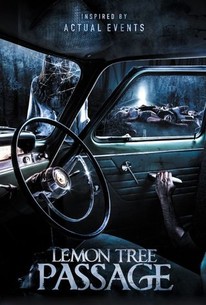 AUDIENCE SCORE
Critic Consensus: No consensus yet.
Lemon Tree Passage Videos
Lemon Tree Passage Photos
Movie Info
A couple of Australians introduce three American backpackers to the local legend of Lemon Tree Passage where a ghost of a motorcyclist warns young drivers to slow down. After seeing the ghost first hand they uncover a malevolent force that posses the area and threatens to wreak havoc on the final days of their vacation. Isolated and ten thousand miles from home, the tourists find themselves caught in the clutches of an evil force much more heinous than the local myth believed.
Critic Reviews for Lemon Tree Passage
There are no critic reviews yet for Lemon Tree Passage. Keep checking Rotten Tomatoes for updates!
Audience Reviews for Lemon Tree Passage
½
You know, I've always said that Australia is one of the places I've always wanted to visit, if I had the money and wasn't terrified of flying. In terms of the actual place, I think parts of it are relatively similar to where I live. And I say part, because we don't have a place like the Outback here or even anything remotely close to it. Reasons why I want to visit are irrelevant and personal. But I digress, I've seen plenty of films from Australia and, honestly, I've pretty much enjoyed a large percentage of them. Their films are, typically, very good. There are obvious exceptions, there's one that comes to mind right now but it's based on a real-life case where this woman murdered a teen girl. It's called In Her Skin and it felt more like a Lifetime television movie than something you'd pay to see. I'm sure there are others, but of the Australian films I've seen, that one stands out as the weakest. And, of course, this movie also immediately comes to mind. I'll be honest, this isn't a bad movie in the slightest. If I'm being honest and fair, this ends up being a surprisingly decent little movie. Perhaps nothing that you would ever recommend to your friends, but it's something that you can watch without wanting to pull your hair our or thinking that you wasted your time. It's obvious that this film did not have the biggest of budgets and you can see that from the look of the film and the fact that the special effects they use, mostly, are based around this giant orb of light that appears if you go a certain speed down this road or something. In the end, honestly, this orb ends up being a bit of a red herring and fairly irrelevant to the story as a whole. So, essentially, this orb ends up being a bit of a waste of time, since it doesn't play any real part in what actually happens in the film. I will say, to be fair, that the whole teens stuck in the woods while some...force hunts them down and kills them is a little tired. But I will say that they do about as good a job at giving you a reason why this ghostly force/apparition is hunting them down, even though, in the long run, all these teens are actually innocent and they should not have had to pay for someone else's crimes just because a ghost is pissed off. Having said that, again, they do really try to give you a reason for why this shit is going on and why the ghost of this teen girl wants revenge on the person(s) who wronged her. I wonder if she's done the same thing with the others responsible, though not everyone is gonna buy into this whole seeing the ghost of a dead motorcyclist who was driven off the road to his death by some teens. Unless this ghost has other ways of getting to people, but it just doesn't seem that way since the whole thing seems to be surrounded around these woods, since it was the place this teen died. But I digress, the acting, particularly for a low-budget horror movie, is surprisingly solid all things considered. I can't complain about that in the slightest. Perhaps one of the problems I have with this is that it feels like a bunch of other film's we've seen before. There's not one original bone in this film's body. That's not always a bad thing, I've seen plenty of films that have no original bones in their body and they still end up being enjoyable. I just think it's a lack of real scares or, really, attempted scares that hurt the movie to me. What they do is the most basic stuff possible. You could even say that it is pedestrian. But this movie is, at the very least, really short and it never overstays its welcome. It's well-paced and it builds to its climax in a competent fashion. I don't really know what else to say about this movie. It's certainly not the best Australian film I've ever seen, not by a fucking long shot, but this is still a decent horror movie. It won't scare the shit out of you or anything of the sort, but it will keep you distracted for about 80 minutes. Can't recommend it, but you could have been watching The Axe Murders of Villisca instead. Yikes, that movie sucked. This film is average at best, but it's like Taxi Driver when compared to Villisca.
Jesse Ortega
Super Reviewer
Lemon Tree Passage Quotes
There are no approved quotes yet for this movie.