Lemony Snicket's A Series of Unfortunate Events
(2004)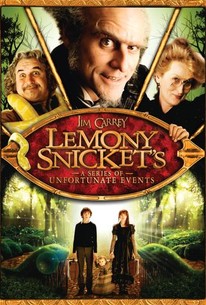 TOMATOMETER
AUDIENCE SCORE
Critic Consensus: Although it softens the nasty edges of its source material, Lemony Snicket's A Series of Unfortunate Events is a gothic visual treat, and it features a hilariously manic turn from Jim Carrey as the evil Count Olaf.
Lemony Snicket's A Series of Unfortunate Events Videos
Lemony Snicket's A Series of Unfortunate Events Photos
Movie Info
The best-selling series of subversive children's books from author Lemony Snicket (aka Daniel Handler) come to the screen in this black comedy for the whole family (and how often do you get to see one of those?). The Baudelaire siblings -- gadget freak Violet (Emily Browning), bookworm Klaus (Liam Aiken), and baby Sunny (Kara Hoffman and Shelby Hoffman) -- were living a fairy-tale existence with their parents until they died in a fire that destroyed the family home. With few close relatives and a large fortune the children won't inherit until they reach adulthood, the Baudelaire children are left in the care of the peculiar Count Olaf (Jim Carrey), an out-of-work actor who would love nothing more than to get his hands on the kids' money. It doesn't take long for the children to figure out that Count Olaf is up to no good, and they try to steer clear of his various murderous schemes with the help of wildly paranoid Aunt Josephine (Meryl Streep) and snake-fancying Uncle Monty (Billy Connolly). Lemony Snicket's A Series of Unfortunate Events also features Catherine O'Hara, Timothy Spall, Cedric the Entertainer, and Luis Guzman; Jude Law narrates in the guise of author Snicket. ~ Mark Deming, Rovi
News & Interviews for Lemony Snicket's A Series of Unfortunate Events
Critic Reviews for Lemony Snicket's A Series of Unfortunate Events
Audience Reviews for Lemony Snicket's A Series of Unfortunate Events
Nowhere near the brilliance of Lemony Snicket's series, the film is a disappointment as far as adaptations go. It is aesthetically pleasing, however, with wonderful visuals. While there is some humor, most of the film is quite lifeless with wooden acting. If only the makers had spent as much time on the script as they did on the aesthetics, the film may feel a little less empty than it does. Ultimately, the film is pretty to look at, but nothing more. Its main failure not only comes from awkward pacing and a bland script, but an attempt to mix in secrets revealed in the last books of the series with the first three installations. Frankly, it doesn't work.
Matthew Samuel Mirliani
Super Reviewer
½
I was once addicted to the books that this film was based on. Due to me being bored, I decided to take down off of my bookshelves the entire saga of the Baudelaire children and read each book nonstop until the end of all 171 chapters. Wanting more, I decided to rewatch the film. At first, I was puzzled with what I saw. I know that novels will be different when they are presented on film, but I was puzzled at the drastic change of the content. The original series was a modern masterpiece of dark comedy and psychological humor while the film was mainly slapstick with some dark humor and impressive set pieces. After coming to terms with that, I rewatched the film to base it on it's own terms. What I got was an okay film that proves how versatile Jim Carry can be in terms of playing different characters. That is what might be the greatest problem with this film: it is built too much on being artistic and show casing Carry's talent as an actor. The rest of the cast is... okay. Nothing that really stood out to me and for a film that has Timothy Spall, Jude Law, and Meryl Streep, this is a shock due to how bland they acted. I know in the books their characters only served as disposable characters just to move the story along, but here they just seem to be their for no reason. You could literally remove those characters and the film would still be the same. I find this disappointing because all three actors play characters that are amusing, interesting, and worth watching. But with them removing almost all likability that they had in the text, they are just left hallow characters that serve no purpose. Honestly, this broke my heart a bit because I wish that they would have gave these characters life. But, seeing as how this film is built on the triple performance of Jim Carry, I might as well talk about that for a bit. He is good in this version of Olaf, and that is to say the film adaption. He portrays this dark character as a comedic joke, making each reincarnation more humorous and insane than the previous. Watching him does make one smile due to the silly and outrageous presentation. His performance is not as good nor as memorable as others, but the look he givers Olaf is. For the children, they are okay. Emily Browning portrays a more mature version of Violet which, for me, I liked. In the books that the film is adapted from, Violet comes off as weak and a little whinny. Here she is more mature, independent, and clear thinking. Liam Aiken does okay as Klaus, giving us a more whinny version and one that is not as good as you can hope. Personally, I wish that they picked a different actor other than Liam Aiken. But, that is just me. Seeing as how Sunny is just a baby in the film, it would be unfair for me to critique that performance. The set design and look of this film is wonderful. That is the one thing they did get right: the complete gothic feel of the story. Reading the novels, there is just a wave of Tim Burton-esque influence with the tone and look of the settings. If I could applaud this film for anything, it would be the art direction. In a nutshell, I did not care for this film at all. Yeah, it is a nice little family film that is good for passing the time, but if you are looking for a good adaption, you will be screwed to find that this is no such case. But, you know, it is a pity: this film could have been great.
Zach Brehany
Super Reviewer
"Lemony Snicket's A Series Of Unfortunate Events" is a movie based off of the book series of the same name. What can I say about this movie, it's great, for children or fully grown adults. It actually does follow the source material quite well, and is told from an interesting first person perspective by one of the orphans that insinuates he is writing the series of books as he narrates this movie. It's a very interesting concept, but anyway, onto the movie. The movie, as do the books, follow the story of three orphans trying to find a new home after their old one was burned down and their parents killed in the fire. Soon enough, they meet Count Olaf, their horrible relative who, throughout the movie, constantly keeps trying to kill them so he can inherent their family fortune as their legal guardian. The first thing you will notice, just by watching the trailers, is that Jim Carrey plays Count Olaf, as well as his many disguised personas, and he does the role beautifully. He's truly a very interesting and unique villain in any movie, one minute you'll love to laugh at him, and the next you'll love to hate his guts. He plays the part well and, as Jim Carrey always is, is hilarious. This movie is full of memorable characters such as Count Olaf, the movie has an outlandish theme, yet feels real at the same time. Truly a well constructed, and fun to watch movie.
Frank Petrovich
Super Reviewer
Lemony Snicket's A Series of Unfortunate Events Quotes
| | |
| --- | --- |
| Mr. Poe: | Children, I'm afraid that I must inform you of a very unfortunate event. |
| | |
| --- | --- |
| Llamando Conde Olaf: | Damnit. This was such a good character. |
| | |
| --- | --- |
| Lemony Snicket: | The film that you are about to see it is extremely unpleasant. |
| | |
| --- | --- |
| Uncle Monty: | Glad you made it so fast, too bad my other assistant gustas, can't |
| Uncle Monty: | Glad you made it so fast, too bad my other assistant gustas, can't. |
| Llamando Conde Olaf: | (desguised) he'll do anything to be here wait now (shows gustas tied on a train) |
| Llamando Conde Olaf: | [disguised] He'll do anything to be here wait now [shows gustas tied on a train] |