L'Enfer d'Henri-Georges Clouzot (Henri-George Clouzot's Inferno)
(2010)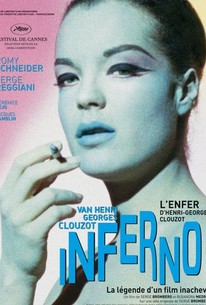 TOMATOMETER
AUDIENCE SCORE
Critic Consensus: Combining visually splendid archival footage and insightful testimonials, Inferno heroically brings Henri-Georges Clouzot's unfinished vision to light.
L'Enfer d'Henri-Georges Clouzot (Henri-George Clouzot's Inferno) Photos
Movie Info
In the 1950s and '60s, Henri-Georges Clouzot was one of France's most acclaimed and successful filmmakers, a director who enjoyed massive international success with Le Salaire de la Peur (aka The Wages of Fear) and Les Diaboliques, and his gift for generating tension and suspense onscreen earned him the nickname "the French Hitchcock." In 1963, Clouzot began work on a project called "L'Enfer" (aka "The Inferno"), a tale of jealousy that leads to madness, and the filmmaker was promised all the time and resources he needed for the picture. However, while the director was meticulously prepared when shooting began, after only three weeks the production was halted and never resumed; Clouzot would complete only two more films before his death in 1977. Filmmakers Serge Bromberg and Ruxandra Medrea try to answer the question of what happened to a project so full of promise in L'Enfer d'Henri-Georges Clouzot (aka Henri-Georges Clouzot's Inferno), a documentary which looks into the shadowy history of this lost film. Including interviews with members of the cast and crew (among them production assistant Costa-Gavras, who went on to a distinguished career of his own) and excerpts from the surviving footage (seen by the public for the first time here), the film tells the tale of how a great director ran afoul of his own demons while making a movie about a troubled man. Henri-Georges Clouzot's Inferno received its world premiere at the 2009 Cannes Film Festival.
News & Interviews for L'Enfer d'Henri-Georges Clouzot (Henri-George Clouzot's Inferno)
Critic Reviews for L'Enfer d'Henri-Georges Clouzot (Henri-George Clouzot's Inferno)
Audience Reviews for L'Enfer d'Henri-Georges Clouzot (Henri-George Clouzot's Inferno)
I'm surprised that there is an audience that appreciated this film. Upon finding a canister of an unfinished film. the film maker probably would have been better off just showing us what was within. Instead we have a meandering mess of images that confuses Clouzot's original intentions.
John Ballantine
Super Reviewer
½
Intriguing doc about the legendary H.G Clouzot's unfinished film 'L'Enfer'. It has rare footage of dailies, cam/makeup tests and interviews with cast/crew.
This is an intriguing documentary about "Inferno," a film that Henri-Georges Clouzot started directing but was not able to complete in 1964, starring Romy Schneider and Serge Reggiani in a tale of jealousy and madness at a resort hotel. Reality is shot in black and white while the hallucinations are shot in color, combined to form a hypnotic mix. Sadly, all that survives of this film are 185 film canisters comprising 13 hours of footage. What has not is a soundtrack and occasionally Berenice Bejo and Jacques Gamblin read some of the dialogue on a soundstage. This is supplemented by interviews with surviving crew members including Costa-Gavras who was an assistant on the project but I would have liked to have heard from Jean-Louis Trintignant who plays a cameo role in the drama. On such an experimental project with American support and an international star, the documentary makes the case that Clouzot bit off more than he could chew.(The first sign that something may have been wrong was the 300 page script.) While the scale may have been larger than he was used to, Clouzot is also the same person who directed Simone Signoret in "Diabolique" and Yves Montand in "The Wages of Fear." Actually, the failure may have been one of nerve, as all the lengthy preparation and tests could have been procrastination(take it from somebody who knows). And I am wondering how much of the movie was meant to be autobiographical on a psychological level, as he had suffered previously from depression and this was his first film in four years. While watching the clips in this documentary, I was struck by the notion, as I usually have while watching a Brian De Palma movie, that I have seen this movie before. And I had. Thirty years after Clouzot could not bring his movie to fruition, Claude Chabrol adapted his script with Emmanuelle Beart and Francois Cluzet starring which the documentary fails to mention, missing a valuable opportunity to compare and contrast. In any case, I recall not liking Chabrol's version, as his workmanlike approach was not quite right for Clouzot's heady vision.
L'Enfer d'Henri-Georges Clouzot (Henri-George Clouzot's Inferno) Quotes
There are no approved quotes yet for this movie.