The Leopard Man
(1943)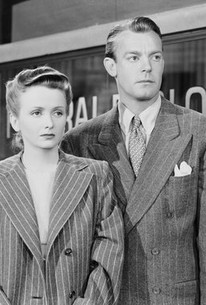 Movie Info
Adapted from the Cornell Woolrich novel Black Alibi, The Leopard Man is a lesser but still fascinating psychological-horror effort from producer Val Lewton. Someone has been killing off the citizens of a small New Mexico town, and the most likely suspect is a huge leopard, purchased for a local nightclub act by press agent Jerry Manning (Dennis O'Keefe), which has escaped from its cage. Neither Manning nor his star Clo-Clo (Margo) are totally convinced that the big cat is responsible.The haunting finale takes place during the annual "Day of the Dead" festivities. The opening sequence of Leopard Man, atmospherically detailing the last few moments of murder victim Teresa Delgado (Margaret Landry), is so powerful that the rest of the film seems anticlimactic. Long available only in its 59-minute reissue form, the film was restored to its original 65-minute running time in the mid-1980s.
Critic Reviews for The Leopard Man
Audience Reviews for The Leopard Man
½
The movie starts out good, but it disappoints in the end.
½
I thought The Leopard Man was going to be a rehash of Cat People was I was pleasantly disappointed. It's another thriller out of the Val Lewton stable about a killer escaped panther, but as time goes on turns out to be something completely different. The twist at the end isn't very difficult to figure out, but The Leopard Man isn't about a clever script or so-so acting. It's about fantastic and shadowy photography and astonishing direction. Essentially any scene in this movie where someone gets murdered is a suspenseful work of art able to make even the most jaded of horror fans jump out of their seats. Even if its just a little bit.
Michael Gildea
Super Reviewer
Not quite as good as Cat People. Interesting, but boring for the most part, I felt.
Tim Salmons
Super Reviewer
The Leopard Man Quotes
There are no approved quotes yet for this movie.