Leprechaun 2
(1994)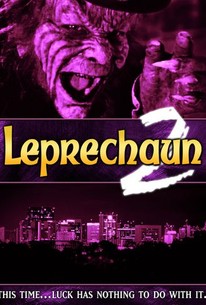 Movie Info
A thwarted leprechaun exacts his bloody revenge in this darkly comic horror film. A thousand years ago in Ancient Erin, there lived a wee Leprechaun who searched for a comely bride. Legend has it that his proper bride would thrice sneeze. Poor Leprechaun did find his sneezing lass, but just before the third achoo, her daddy, the Leprechaun's slave, thwarts his plans. Angry, the wee man vows to exact his revenge upon the man's fairest ancestor 1,000 years hence. Time flies and the movie moves to modern California on St. Paddy's day. The Leprechaun returns to find the lovely Bridget sneezing. Once. Twice. Thrice. He captures hapless Colleen. To her rescue comes her fearless boyfriend Cody who steals a bit of gold from the Leprechaun. Enraged, the greedy greeny begins systematically killing people. Will Cody prevail?
News & Interviews for Leprechaun 2
Critic Reviews for Leprechaun 2
Audience Reviews for Leprechaun 2
The first Leprechaun was a bizarre affair of pure cheese that was bad, but mildly amusing. This sequel on the other hand was bad, purely bad. Trying to build on the previous film, to yet more mediocre results, Leprechaun 2 fails to deliver on good bits of comedy horror. The script is poorly written, the comedic delivery is lazy, and overall this is just a rehash of old ideas. Leprechaun is a prime example of a sequel that doesn't work, not to mention that like its predecessor, it's almost as bad. There's nothing satisfactory about this sequel. If you enjoy good, cheesy horror comedies, there are far better films than this one. The problem with the Leprechaun films is that it goes so over board, and a lot of it repeats itself it becomes almost a cliché. The idea is amusing, but the execution is poor. I don't understand why they would make a sequel to a bad comedy horror flick. This sequel doesn't try anything new and it's tiresome, lazy and ridiculous like all the other films. Leprechaun 2 is at least not as bad as so many others in the series, but it still is pretty bad. Oh well, the filmmakers knew what they were doing in delivering a film series that would make them tons of money by constantly delivering garbage. The sequels were simply a way to make a quick buck, with no real script substance, character development or good directing. This is the first awful sequel to a terrible film. Don't expect anything good watching this.
½
Was quite delighted to realize that Warwick Davis plays the Leprechaun. These movies scared the bejesus out of me as a kid, and today, though the gore was certainly not satisfying (though I saw this on SciFi so it may have been edited), the humor and plot were plenty entertaining. I like the story and it covers up for the bits of overacting and kitsch lines. Makeup on the titular character is supreme and adds most of the fright factor. Sets are superior as well, capturing the essence of mid-budget 90s. Pretty big recommend for horror fans who want an evenly paced story and some laughs but can do without blood.
_kelly .King
Super Reviewer
Better than the first. The humour is rather immature and lazy, but carried by Warwick Davis it is rather endearing. Fun to imagine Wicket going around and killing people. The acting is better, emotions range from scared to distraught. In a bigger setting and set on St. Patrick's Day the film has more to do and there are some great moments. Such as the drinking contest. Would we ever see Krueger, Myers or Leathface engage in a drinking contest? I doubt it. Not to mention Davis is cheered on by a group of "wee people" that chant "One of us". It's a more enjoyable film and one that overstretch it's reach.
Luke Baldock
Super Reviewer
Leprechaun 2 Quotes
There are no approved quotes yet for this movie.