Leprechaun 4: In Space
(1997)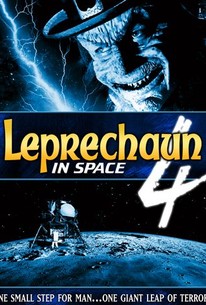 Leprechaun 4: In Space Photos
Movie Info
In this episode of the grisly little green man's saga, the Leprechaun heads for outer space to steal the gold from a mining planet and to marry the girl of his dreams. When she is rescued by a unit of intergalactic commandos, the leprechaun sets off to get gory revenge.
News & Interviews for Leprechaun 4: In Space
Critic Reviews for Leprechaun 4: In Space
All Critics (6) | Fresh (1) | Rotten (5) | DVD (1)
Whenever someone lists so-bad-they're-great movies, "Leprechaun 4: In Space" should always be there, right next to the likes of "Troll 2" and "Plan 9 from Outer Space."
[A] singularly unlovely and weird piece of cinematic detritus.
Do you really need to know more than the title?
July 31, 2003 | Rating: 0/5
Audience Reviews for Leprechaun 4: In Space
You can guess by the title of the film that this "film takes place in outer space. This film sucked. I only watched this series so I could see how bad these films were, well, I got more than I bargained for. There's only one film that worked in the "space" genre, and that's Hellraiser: Bloodline. However, this film was a total miss. At least the Hellraiser in space idea was a good one. The story was original for that one, and it was pretty creative. However this isn't the case with this one. For this series, it's clear that the filmmakers didn't care about putting the Leprechaun in the most absurd situations. Of course it's meant to be good, cheesy fun. But I've seen so much better than this. Leprechaun i4 suffers from all the usual elements that this film such a poorly thought out film. Don't get me wrong, I love cheesy horror, but with this series, something really doesn't fit. The film is poorly made, and it's a mess from start to finish. The only good part about the film is the end credits. I don't understand how a studio would finance such a horrid film. This is a film that misses the mark, and really plainly stupid. As if that's a big surprise with a series of a killer leprechaun. The film like all the other in the series are purely bad, and like I said, I don't understand why these films were made, not to mention why people would watch them. I on the other, I guess was mildly curious about the series, and do enjoy a good silly flick, but this one just sucks.
I don't know why Leprechaun is in space. Nor do I care. What I do care about is how wonderfully deranged the film is. Alien princesses, cross-dressing, and an alien spider man thingy. It doesn't really feel like a Leprechaun film, the Leprechaun is quite toned down. He doesn't even rhyme a lot here. Nobody seems to question the absurdity of a killer leprechaun in this film. perhaps it's just become that common. The effects are alright for the cheap piece of rubbish this is. Also it has DeeJay from Streetfighter. WORD!
Luke Baldock
Super Reviewer
I think I saw this one. Pretty sure warwick davis comes out of a guys crotch when he's about to get some. That gets it a free star.
Curtis Lilly
Super Reviewer
Leprechaun 4: In Space Quotes
There are no approved quotes yet for this movie.