Leprechaun: Back 2 tha Hood
(2003)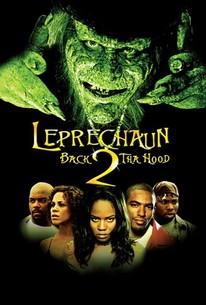 Leprechaun: Back 2 tha Hood Photos
Movie Info
The sixth movie in the seemingly endless Leprechaun series finds the title character revisiting the territory he menaced in the fifth outing. This time around, a group of inner-city friends go from rags to riches when they stumble upon some treasures. Little do they know that the booty belongs to the terrifying little green man and he wants it back. Decked out in bling-bling and smoking chronically, Leprechaun dispenses with the unsuspecting pals one by one. Warwick Davis once again reprises the title role, which he's assumed throughout the series, and instead of Ice-T, who co-starred in Leprechaun in the Hood, another rapper, Sticky Fingaz of Onyx, is onboard for this blood bath.
News & Interviews for Leprechaun: Back 2 tha Hood
Critic Reviews for Leprechaun: Back 2 tha Hood
Audience Reviews for Leprechaun: Back 2 tha Hood
½
Whassup ninjas! The Leprechaun heads Back 2 tha Hood in this sixth and final installment of the series. After a hairdresser named Emily finds a chest of gold coins at an abandoned construction site and shares them with her friends, the Leprechaun comes a calling. The characters are actually fairly interesting and are well-written, except for the Leprechaun; who seems entirely out of place and buffoonish. Still, there are some entertaining kill scenes, and the gore is pretty effective. While it has some problems, Leprechaun: Back 2 tha Hood is one of the better installments of the series.
Dann Michalski
Super Reviewer
The Leprechaun franchise along with the Puppet master series is probably the worst series in the history of horror. Now this is the sixth entry in this uninspired, boring and above all stupid series of films. This sixth and final entry in the series is just as awful as the rest of the previous films. There's nothing interesting or good on-screen, and this is a pointless waste of time. Like the previous films in the series, this film suffers from a poor plot, a poorly written script, bad acting and bad directing. This film was horrible, and I really don't see why they made a sixth entry in this franchise. Having seen all of the Leprechaun films back in my teens, thinking they would be a fun, great-bad horror film to watch, I was wrong. This series doesn't deliver anything entertaining for the viewer expecting something great to come out of it. The Leprechaun franchise could have been a better series, but instead it was given a half assed treatment and the series failed miserably in my opinion, at least with this last lackluster entry, hopefully the Leprechaun is down on his luck for good. Back 2 Tha Hood is a stupid, poorly written film that is almost too bad to be Straight to DVD level. The cast was horrible and there was nothing, absolutely nothing good about this film. Don't watch this if you're expecting something that's so bad it's good, this isn't even in that category.
Each Leprechaun movie has changed setting as the series progressed. From a small quaint farm to outer space. Finally he ended up in the hood and is still in the hood. This leads to the usual formula, missing out on any changes whatsoever. It's the same shtick we were delivered in the last outing. The big difference is that it is a lot less fun. Even Warwick Davis seems less involved and he has been the anchor for this rickety series. Thinking back on it, it's hard to distinguish between this and the last "...In the hood" film. But I definitely didn't enjoy this retread. It tries to add to the mythology with Warwick being the last and only evil Leprechaun, but this just contradicts the previous films.
Luke Baldock
Super Reviewer
Leprechaun: Back 2 tha Hood Quotes
There are no approved quotes yet for this movie.