Leprechaun: Origins
(2014)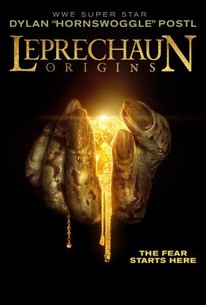 Leprechaun: Origins Photos
Movie Info
Backpacking through the lush Irish countryside, two unsuspecting young couples discover a town's chilling secret. Ben (Dunbar), Sophie (Bennet), David (Fletcher) and Jeni (Roxburgh) quickly discover the idyllic land is not what it appears to be when the town's residents offer the hikers an old cabin at the edge of the woods. Soon, the friends will find that one of Ireland's most famous legends is a terrifying reality. (C) Lionsgate
News & Interviews for Leprechaun: Origins
Critic Reviews for Leprechaun: Origins
Audience Reviews for Leprechaun: Origins
½
What the F*CK was that! The WWE royally screws up the Leprechaun series with the reboot Leprechaun: Origins. Going for a creature feature vibe, the Leprechaun is re-envisioned as a primordial animal that feeds off of human flesh. The plot involves a group of college students who are sent off the beaten path by a local miner to see some ancient Celtic ruins, but it turns out to be a trap intent on sacrificing them to a leprechaun. It's an incredibly generic storyline, and is full of all the usual horror movie cliches. Plus, the characters really aren't that interesting, and neither is the Leprechaun. Leprechaun: Origins is just senseless violence and gore without much suspense ('cause it's very predictable).
Dann Michalski
Super Reviewer
As someone who grew up watching, and loving, horror films I find it surprising that I've not ever seen a full Leprechaun movie, the ones with Warwick Davis of course. I've seen parts of the original and parts of the In Da Hood film, but never watched one all the way through in one sitting prior to this one. Of course, thinking that I'm a knowledgeable horror fan, I am aware of the fact that the Leprechaun series was always a little bit tongue-in-cheek, cartoony, and over-the-top. It wasn't meant to be taken seriously at all. It's clear this was meant to be a more comical franchise. That couldn't have been more obvious. So this brings us to this darker reboot. This film is Batman Begins to Warwick's 1960s Batman. However, unlike Batman Begins, there's not a light year jump in quality in this darker reboot. This isn't even really a reboot of the original series, it's something that focuses more on the real Irish myth that inspired the original series. The only reason this is called Leprechaun is to give it an established name that people will immediately recognize. That's literally the only reason, it has no real roots in anything that came before, it's not like this is a superhero whose comics have gone on 60+ years, so there's a variety of different versions of the character that you can explore all within the same universe. Let me just say that I think making the reboot a more traditional slasher film was the worst mistake they could've made. The absolute worst decision that was made if you were hoping to reboot this franchise successfully is to take away the comical edge the film had. And IF you are determined to do something completely different from the previous series, then you should at the very least try your hardest to make the script the best you possibly can. I'm not saying the people in charge of writing, and directing, this film didn't really put in much of an effort, but it certainly comes across that way. There's nothing in this movie that's really worth seeing. It goes around in circles for 78 minutes, maintaining the same tone throughout the film. There's no real scares in the film and the gore is largely terrible. The costume for the leprechaun itself was also laughably bad. So bad that they actively avoided doing full body shots so you couldn't see how bad the costume actually was. This feels a little cheap since it feels like the movie cheats you out of seeing the leprechaun. Jaws made not seeing the shark for 95% of the film work because of how it built up the suspense through the film score. The Godzilla reboot also made it work exceptionally well, they gave you just enough to pump you up for more. But you can just NOTICE that this film chose this route because their budget simply wasn't enough to make a good monster costume for Dylan Postl to wear. It's impossibly transparent. If I had thought this film did it to build it suspense for the reveal then I would understand...but you know how I know it wasn't like this? THERE WAS NO REVEAL. You just get to see its face close-up. It's so bad really. And it would be one thing if at least the film offered some decent death scenes, but this is practically nonexistent on them. There's a decent one and that's it. The film practically relies on tired slasher cliches to pretty much crawl to the finish line. The acting is pretty bad, not terrible by any means, but still bad. All this is is a uninspired cash grab. Horror fans, after all, are some of the most loyal fans you will find. What easier audience to rip off than them, right? There's not even unintentional laughs so you can at least laugh WITH the film, even if you're not enjoying what the film has to offer on a "serious" level. Would I say this is the worst movie of the year? I'd say it's the worst I've seen, by far. At least the last Transformers movie had good special effects. For the life of me, I cannot find one positive about this film...at all. The special effects are terrible, the story sucks, relying mostly on tired cliches, the acting is bad, it's poorly paced, poorly shot and edited. What is there that this film does better than any other slasher in existence? I can wait, I've got all day. It's a rare occasion where I watch a movie with very little redeemable qualities. Date Movie at least had Alyson Hannigan. The Wicker Man remake and The Room at least made me laugh with how awful they were. I'm looking for ANY positive. I've been wracking my brain trying to think of any and, for the life of me, I just can't. While given the same rating, I don't think this is as bad as the aforementioned films. But, with the exception of Date Movie, I enjoyed them so much more than this. At least they made me laugh. This...this is like paying for for an invisible meal. Just an awful film all around.
Jesse Ortega
Super Reviewer
Shawn Montague
Super Reviewer
Leprechaun: Origins Quotes
There are no approved quotes yet for this movie.