Les Biches (Bad Girls) (Girlfriends) (The Does)
(1968)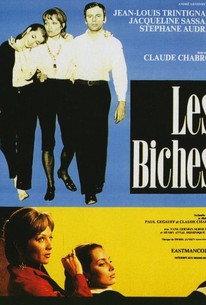 Les Biches (Bad Girls) (Girlfriends) (The Does) Photos
Movie Info
Bored, wealthy Parisian socialite Frederique (Stéphane Audran, then director Claude Chabrol's wife and the star of many of his films) picks up young sidewalk artist Why (Jacqueline Sassard), brings her home, offers her a nice hot bath and coffee, and seduces her. Then Why follows Frederique to the latter's Saint-Tropez villa, where they alter their sensuous encounters with wild parties for the idle rich. At one of these parties, Why meets Paul (Jean-Louis Trintignant), a handsome young architect, and immediately falls for him. Jealous Frederique intervenes only to lure Paul into her own arms, and the two soon depart for Paris, leaving Why alone with her frustration at the villa. Though often labeled the French Hitchcock, here Chabrol consciously abandons suspense for adult-oriented drama.
Critic Reviews for Les Biches (Bad Girls) (Girlfriends) (The Does)
Audience Reviews for Les Biches (Bad Girls) (Girlfriends) (The Does)
A rich businesswoman (Stéphane Audran) takes a homeless street artist (Jacqueline Sassard) under her wing, and initiates a twisted and deadly ménage-a-trois when her protégée's affair with an architect (Jean-Louis Trintignant) threatens the status quo. Such is Claude Chabrol's mastery at this sort of thing that he is able to reveal latent malice and emotional turbulence without ever once resorting to histrionics, and to create an intoxicating, erotically charged atmosphere without ever resorting to sexual explicitness. Although there's a palpable sense of impending tragedy throughout, I found the climactic 'Epilogue' oddly unsatisfying, lacking the sound, psychological underpinning of "Le Boucher", for example. Both of the female leads are fantastic; Trintignant avoids playing the stereotypical, sleazy seducer, but his character is comparatively underdeveloped and lacks depth. Jean Rabier's photography and Pierre Jansen's score are both outstanding.
Les Biches (Bad Girls) (Girlfriends) (The Does) Quotes
There are no approved quotes yet for this movie.